Covid-19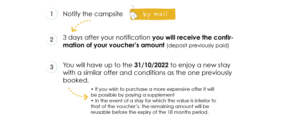 FAQ
I want to get in touch with a campsite but I can only reach the answering machine 
Due to the current events, our teams are also in isolation and will make sure that they answer your emails.
I have booked a stay but the campsite is closed due to administrative reasons, what can I do?
In that case, you can postpone your stay free of charge.
Contact the campsite via email to choose a new date for your stay or ask for a voucher of equal value to the amount you had previously paid. Under the order of the 25th of March you will be able to get a refund 18 months after your email notification if you have not already used your voucher.
Can I cancel my booking due to COVID?
You can cancel your stay and get a voucher for the money you had already spent. This voucher is usable for your next stay in the Seasonova Group campsite of your choice until the 31st of October 2022.
Contact your campsite via email to ask for your voucher.
I wish to book a holiday but I am quite worried due to the current situation.
By booking directly with our Seasonova campsites your money will never be lost, whatever the reason of your cancellation might be.
For any booking made during the period of the 1st of March to the 15th of September 2020 you will be able to get a voucher for the money you have already spent. This voucher will be redeemable for a stay in one of the Seasonova locations of your choice.
I have a voucher but I cannot travel this year, how can I use it?
Your voucher is valid until the 31/10/2022, you are free to book a stay for the 2 years to come.
May I share my voucher with a friend or a family member?
Yes, you will just have to notify us via email when you book your stay.
I have already paid a deposit, what happens now?
Your money will not be lost, for whatever reason your cancelation might be. You can postpone your stay with no additional cost by getting in touch with your campsite.
I have purchased a cancelation cover, can I get a refund for my deposit?
Our cancelation cover allows you to cancel a stay when an unforeseen event prevents you from going on your holiday.
If this unforeseen event is linked to COVID19, it is not considered an unforeseen event since it is considered a case of force majeur. You can cancel your booking and obtain a voucher redeemable for your next stay in one of our Seasonova campsites.

Hygiene and sanitary safety measures