HOME On the edge of the lake
Aquarev***
A family friendly campsite for the perfect camping holidays at the heart of Brittany
Large spaces in a calm and convivial setting. Recharge your batteries in our campsite at the heart of nature between a lake and a forest. The perfect occasion to discover the lands of the Côtes-d'armor from our camping site located in Loudeac, 30 minutes from Saint and 1h away from Rennes in Brittany.
A campsite on the edge of the Loudeac lake with a heated swimming pool in the summer
Come and spend family friendly and active holidays at the heart of the Aquarev leisure base. You will only have to take a few steps to enjoy the many games and activities offered at the leisure base. Tennis, football, fishing, archery, tobogganing, water games,ropes pyramid, slacklining… there is something for everyone.
Good to know


Access for people with reduced mobility (according the rentals)
Spoken languages
French
News

Réservez en toute sécurité chez seasonova
Because a successful stay starts with a serene reservation, Seasonova makes your life easier. If you opt for a reservation without cancellation guarantee, you will still benefit from a refund* within 48 hours (working days) in the following cases : [...]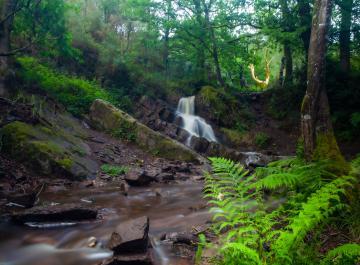 La forêt de Brocéliande, une escapade magique
Sorry, this entry is only available in French, German and Dutch.La forêt de Brocéliande en Bretagne est un lieu mythique cité dans de nombreux ouvrages. Pour la plupart, ces derniers content la légende du Roi Arthur. Ces écrits, datant du Moyen Âge, [...]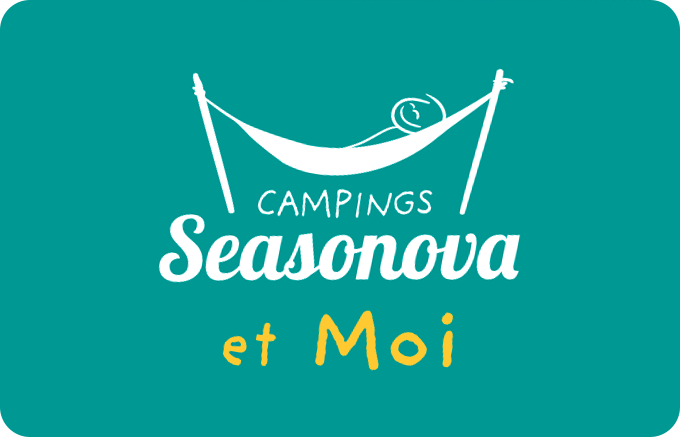 Do you know the
loyalty card?
Many advantages*
Join our tribe
and receive exclusive offers
* according to general conditions of use
Rentals
Holiday rentals in the countryside
Want to unwind at the heart of a preserved natural space? Here, you will be able to find the accommodation that suits you. For a couple's holiday you will be able to stay in a charming wood cabin. Camping with family or friends? Our holiday cottages are waiting for you, they can house 4 to 6 people.
Pitches
Camping in the country
Are you dreaming of large open spaces and being able to listen to nature? In our campsite in brittany you will find sunny pitches and spots of shade under the trees. Our Aquarev campsite features 78 comfortable private pitches with electricity. Pets are welcomed on all pitches.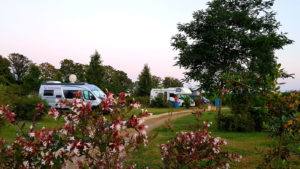 From 100 to 120 square metres our pitches offer a panoramic view on Aquarev's leisure base and its lake. Each pitch is fitted with a 10 amp power supply and a european plug.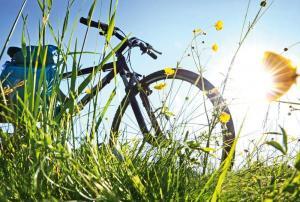 Emplacement avec un accès à un espace couvert avec table et chaises pour vous ressourcer après la sortie à vélo. Nous avons également installé quelques tables de pique-nique pour un peu de réconfort après l'effort !
Sanitary facilities
During their construction in 2012 we used new comfortable and eco-friendly materials. Seasonova commits to protecting the environment by using solar panels on its toilet and shower blocks.
Services Areas
Laundromat: washing machines and dryers are available on the campsite (tokens required)
Wastewater drainage for motorhomes: the campsite's residents will be able to get rid of their grey waters easily and free of charge.
AIRE CAMPING-CAR
Aire de vidange pour camping-cars : les résidents du camping pourront vidanger leurs eaux grises et faire le plein d'eau gratuitement et facilement.
Activities
Relaxing holidays at the heart of nature
The ***Aquarev campsite is located in a natural environment designed for leisure and relaxation. A green rustic space which allows each person to find different places to meet, to enjoy life and relax. A great atmosphere perfect for relaxing. The campsite's philosophy: sharing and conviviality. Here the activities program is not set up beforehand since it is with you and your talents that we fill the days at the campsite. If you have a gift, a talent or a passion let Rachel know! She will make sure that you can share it with the fellow campers in a free and unexpected way during an evening or around a brazier. Let's get to share each other's passion. It is during camping holidays that we can take time to share moments with each other and create new friendships.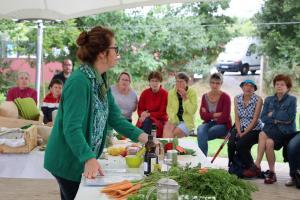 The Aquarev workshops
Each Wednesday during the summer workshops are organised under a tipi. Come and take part in the free activities organised by Loudeac locals with your family. Each year a theme is chosen, in 2019 "Medicinal plants" were the start of the workshops. The activities are varied: culinary workshops, painting, reading, DIY natural products…

Activities in the campsite: let's share our passions!
We love discovering our campers' hobbies. The perfect occasion to organise activities based around music, singing, dancing, magic, games.. " Last year there were flute and accordion concerts as well as juggling. A jewelry designer asked if she could dispy her work and she installed a table to share her skills and creations. A painter offered to have a spray paint workshop for children and there were donkey rides organised too"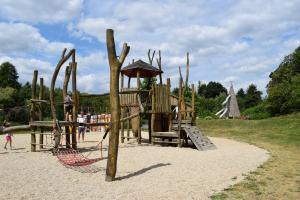 Aquarev leisure base
Here, there is something for everyone and you don't even need to take your car. Games, fitness circuits, fishing pontoons, multisport court, petanque field, slacklining, menhir village, aquatic circuit, infants' area… everybody will be able to go at their own pace and safely. Picnic tables are at your disposal in the park.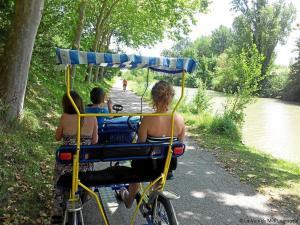 Want to try a new mode of transportation?
Go and discover the park or the Loudeac forest on wheels. We've got you covered. The quadricycles and karts available for rent in the campsite will make it super easy. Everything is available on the spot so you can take your time to cycle alone, with your partner or as a group.
Région
• Heritage: the forest of Brocéliande, the medieval city of Josselin, Carnac, the castle of Fougères (stories and legends have been intertwined for centuries in Celtic lands).
• Gastronomy: the sausage patty, kouign amann, the crunchy Trégor…
• Tourist route: the flax route
• Nature sports: horse riding, hiking trail, mountain biking circuit, leisure center on site with its unusual activities, fishing pond.
• Visit around: the city of Rennes, Saint-Malo and its ramparts, the Pink Granite coast, the land of Rohan and its castles.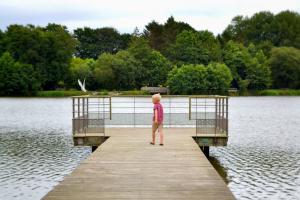 75 acres of leisure at the heart of Brittany 0m
Aquarev means enchanting landscapes around a pond set up for leisure and relaxation: a playground, a labyrinth, a bamboo plantation,fishing pontoons, picnic areas, a sports course, a multi-sport field, in a "Zen" atmosphere. Nature holidays to take your time and have a good time!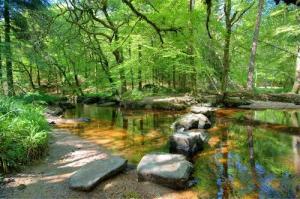 Forest walks 1km
The 6000 acres of forest offer a wonderful area for discovery: 45 km of marked hiking trails, protected flora and fauna. On foot, on horseback or by mountain bike, the forest awaits you! Follow the hike entitled: "The four seasons of the forest", the perfect forest holidays!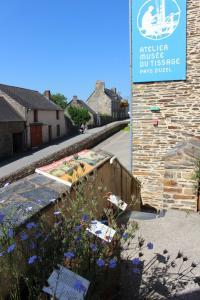 The linen route 2km
More than 35,000 people lived off flax in the Côtes d'Armor between the 17th and 19th centuries. These two centuries were the golden age of Breton textile activity. The extraordinary destiny of the Léauté-Planeix workshops (1872 to 1956) is presented in a fun and interactive way at the Atelier Musée du Tissage. On the murettes site in Uzel, the weaving workshops have remained faithful to the production of authentic old canvases, turning thereafter to original artisanal creation.
SERVICES AND AND FACILITIES
Ga op vakantie met een lichte geest!
Wij zijn er om u te begeleiden zodat u een aangenaam verblijf heeft in het hart van de Seasonova campings. We hebben aan alles gedacht voor een leuke en makkelijke vakantie.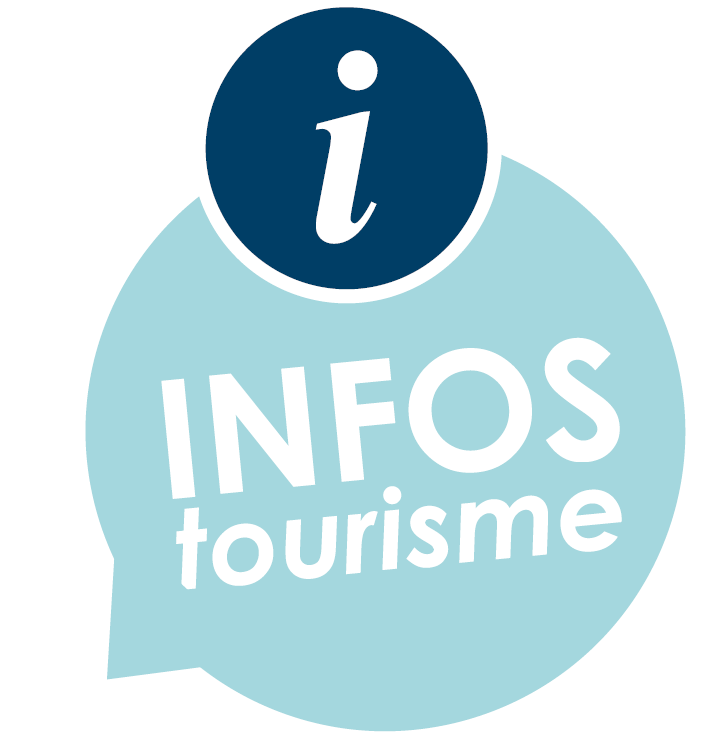 Tapas bar
bread stand
convenience store
Breakfasts upon order
Local produce market

(once a week in July and August)

Hotel package

( sheet and towels rental, optional cleaning service)
Everything for baby

(bed, chair, pushchair and sanitary facilities)

Laundromat
wifi

(fee)

teams on site 24/7
board game loans
library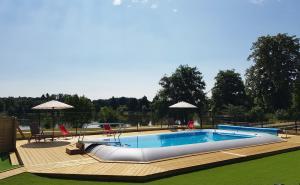 A heated swimming pool with views on the lake
At our campsite Aquarev in Brittany we are right by the water. Prepare to dip in our pool or take your shoes off to wade into the lake.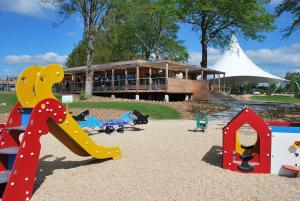 Games for the whole family
There are many activities for adults and children in our campsite in Brittany and at the leisure base. Children will be able to have fun in play areas and make new friends. For the grown ups a fitness course is available around Aquarev.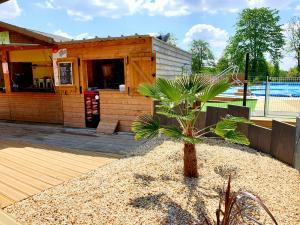 Food and snacks available all day long.
Our snack and tapas bar is opened from morning to night. As you are camping in Brittany we want you to try the many local specialties that we have: breizh cola, Brittany beer, organic fruit juice.. Serving you quality products that we buy in selected producers is very important to us. You will be able to enjoy a variety of foods : fries, chicken, brittany sausages and flan as well cold meats platters to go with your aperitif.
array(84) {
  [0]=>
  string(13) "aprim_etoiles"
  [1]=>
  string(13) "aprim_adresse"
  [2]=>
  string(8) "aprim_cp"
  [3]=>
  string(11) "aprim_ville"
  [4]=>
  string(17) "aprim_ordre_carte"
  [5]=>
  string(15) "aprim_ouverture"
  [6]=>
  string(18) "aprim_emplacements"
  [7]=>
  string(23) "aprim_camping_telephone"
  [8]=>
  string(22) "aprim_camping_brochure"
  [9]=>
  string(21) "blocs_contenu_camping"
  [10]=>
  string(25) "blocs_contenu_hebergement"
  [11]=>
  string(25) "blocs_contenu_equipements"
  [12]=>
  string(23) "blocs_contenu_activites"
  [13]=>
  string(20) "blocs_contenu_tarifs"
  [14]=>
  string(25) "blocs_contenu_a_proximite"
  [15]=>
  string(14) "galerie_photos"
  [16]=>
  string(30) "aprim_camping_secureholiday_id"
  [17]=>
  string(30) "hebergement_titre_introduction"
  [18]=>
  string(30) "hebergement_texte_introduction"
  [19]=>
  string(21) "hebergement_vignettes"
  [20]=>
  string(21) "aprim_camping_form_id"
  [21]=>
  string(5) "label"
  [22]=>
  string(19) "aprim_camping_email"
  [23]=>
  string(19) "aprim_camping_video"
  [24]=>
  string(14) "camping_labels"
  [25]=>
  string(18) "aprim_camping_plan"
  [26]=>
  string(22) "aprim_camping_baliseh1"
  [27]=>
  string(21) "script_secure_holiday"
  [28]=>
  string(7) "widgets"
  [29]=>
  string(16) "utiliser_les_ids"
  [30]=>
  string(24) "script_secure_holiday_id"
  [31]=>
  string(7) "galerie"
  [32]=>
  string(10) "galerie_en"
  [33]=>
  string(10) "galerie_de"
  [34]=>
  string(10) "galerie_nl"
  [35]=>
  string(9) "region_h1"
  [36]=>
  string(21) "aprim_camping_horaire"
  [37]=>
  string(9) "video_img"
  [38]=>
  string(10) "google_map"
  [39]=>
  string(20) "aprim_camping_tarifs"
  [40]=>
  string(11) "pointer_pos"
  [41]=>
  string(6) "equipe"
  [42]=>
  string(8) "cat_actu"
  [43]=>
  string(5) "title"
  [44]=>
  string(8) "subtitle"
  [45]=>
  string(11) "the_content"
  [46]=>
  string(6) "langue"
  [47]=>
  string(5) "modes"
  [48]=>
  string(12) "bon_a_savoir"
  [49]=>
  string(14) "moyen_paiement"
  [50]=>
  string(12) "presentation"
  [51]=>
  string(14) "title_location"
  [52]=>
  string(20) "the_content_location"
  [53]=>
  string(17) "liste_hebergement"
  [54]=>
  string(18) "title_emplacements"
  [55]=>
  string(20) "emplacements_wysiwyg"
  [56]=>
  string(18) "liste_emplacements"
  [57]=>
  string(26) "liste_emplacements_confort"
  [58]=>
  string(15) "liste_insolites"
  [59]=>
  string(15) "title_activites"
  [60]=>
  string(21) "the_content_activites"
  [61]=>
  string(9) "activites"
  [62]=>
  string(12) "title_region"
  [63]=>
  string(18) "the_content_region"
  [64]=>
  string(7) "regions"
  [65]=>
  string(14) "title_services"
  [66]=>
  string(29) "services_equipements_pictos_1"
  [67]=>
  string(34) "services_equipements_pictos_list_1"
  [68]=>
  string(28) "services_equipements_content"
  [69]=>
  string(25) "services_equipements_col1"
  [70]=>
  string(25) "services_equipements_col2"
  [71]=>
  string(29) "services_equipements_pictos_2"
  [72]=>
  string(34) "services_equipements_pictos_list_2"
  [73]=>
  string(25) "services_equipements_list"
  [74]=>
  string(8) "facebook"
  [75]=>
  string(9) "instagram"
  [76]=>
  string(7) "twitter"
  [77]=>
  string(27) "aprim_camping_plan_vignette"
  [78]=>
  string(7) "use_cf7"
  [79]=>
  string(24) "shortcode_contact_form_7"
  [80]=>
  string(15) "grp_reservation"
  [81]=>
  string(18) "display_coup_coeur"
  [82]=>
  string(20) "on_bottom_coup_coeur"
  [83]=>
  string(14) "txt_coup_coeur"
}