DES VACANCES SUR LA CÔTE NORMANDE
Notre Camping Les Mouettes avec accès direct à la mer se situe à Veules-Les-Roses, à 30 minutes de Dieppe, à une heure de Rouen et à une heure d'Etretat. Ce petit village plein de charme est un lieu idéal pour se détendre et passer un séjour en Normandie. Venez prendre le temps dans notre camping en bord de mer. L'art de vivre la slow life dans une ambiance conviviale et familiale.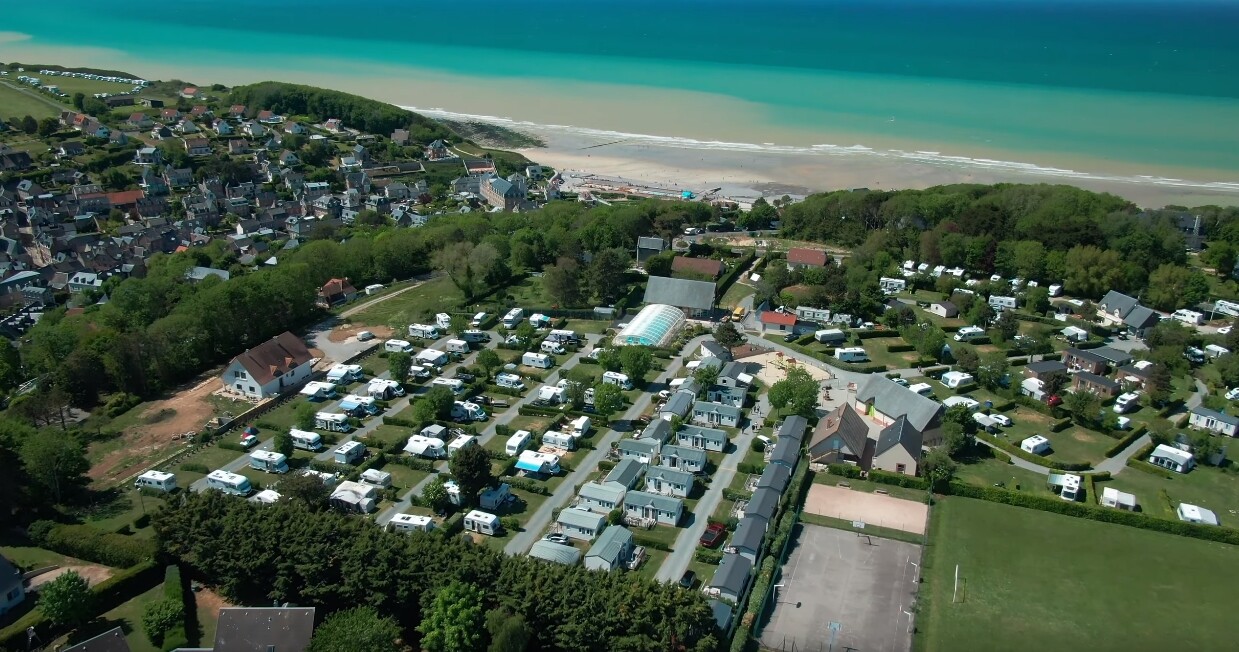 PROFITER DU BORD DE MER ET DES PAYSAGES NORMANDS
Du haut des falaises de la côte d'Albâtre, vous aurez une vue imprenable sur la mer et sur le village. Veules les roses a été labélisé en 2017 l'un des plus beaux villages de France grâce à son cadre idyllique, ses falaises blanches typiques, ses petites rues pittoresques, ses moulins et bien sûr, le plus petit fleuve de France. Un petit sentier vous permettra de vous rendre directement sur la plage et au cœur du village à 300m.
UN CAMPING EN NORMANDIE AVEC PISCINE COUVERTE ET CHAUFFÉE
Si vous craignez les caprices de la météo, soyez rassuré, en séjournant dans notre camping Les Mouettes, vous pourrez profiter de notre piscine couverte jusqu'au 20 septembre.  Ouverture annuelle de la piscine le 15 avril. Il n'y pas de dates d'ouverture pour l'instant puisque nous sommes en attente de l'autorisation gouvernementale pour 2021.
Good to know

Pets allowed * (according the rentals)
Spoken languages
French

English
News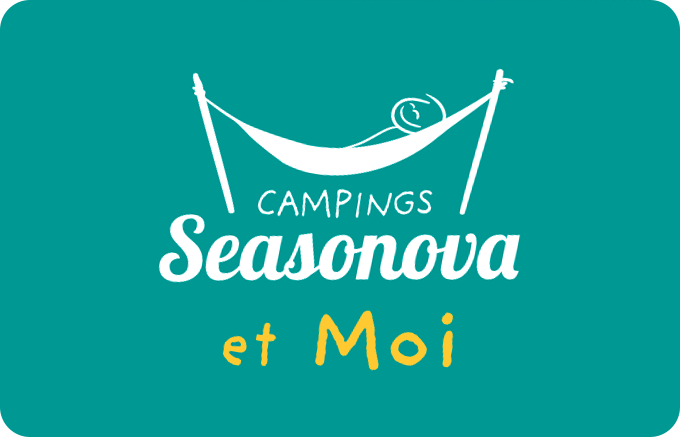 Do you know the
loyalty card?
Many advantages*
Join our tribe
and receive exclusive offers
* according to general conditions of use
Rentals
LOCATIONS AU CAMPING SEASONOVA LES MOUETTES
Votre camping Les Mouettes vous propose différents locatifs. Vous pourrez choisir nos cottages tout confort allant de 1 à 3 chambres. Pour un séjour plus insolite, nos bivouacs sont l'idéal. Nos équipes seront heureuses de vous accueillir et de prendre soin de vous. Assurance annulation pour plus de sérénité
Pitches
EMPLACEMENTS AU CAMPING SEASONOVA LES MOUETTES
Notre camping Seasonova Les Mouettes propose des emplacements spacieux et tout confort. Pour des vacances en Normandie réussies, ce camping est parfait. Vous n'avez qu'à garer votre camping-car, votre caravane ou planter votre tente sur votre parcelle et vous pourrez accéder à la plage et au village à pied.
Pour un séjour qui fait l'éloge de la lenteur et de l'art de vivre.
Assurance annulation
pour plus de sérénité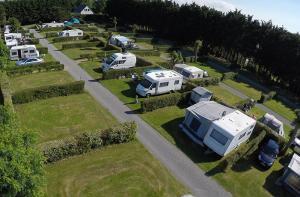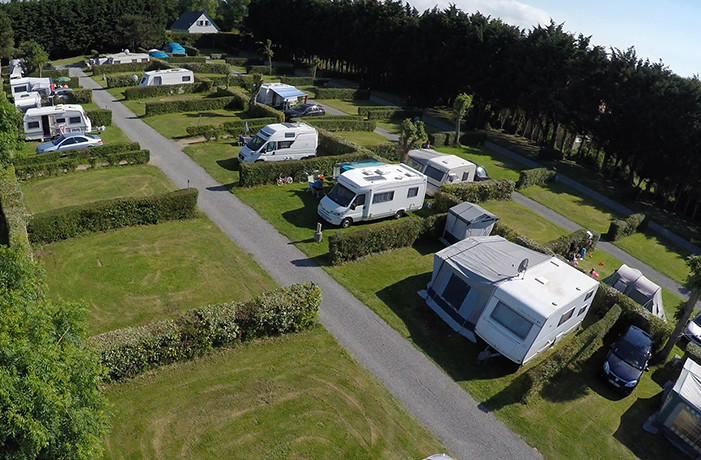 Our Campsite Les Mouettes in Veules-les Roses has private and comfortable pitches which are separated by hedges and grassy. You will have a choice of a variety of pitches to suit your needs when it comes to comfort and access to electricity.
?>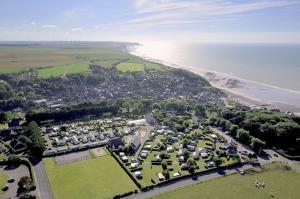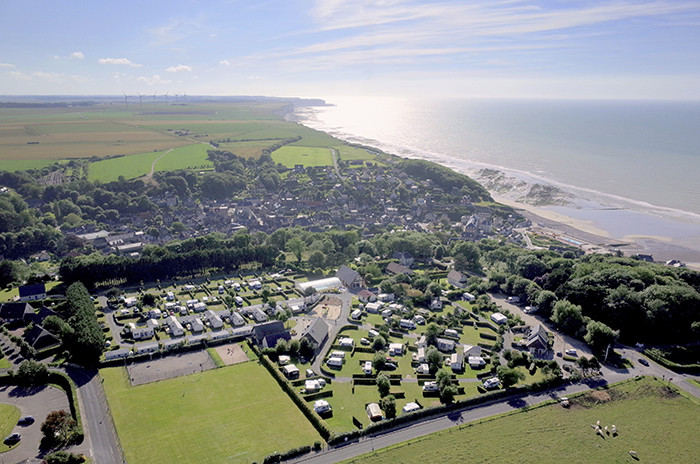 From 80 to 12) square metres you will be able to park your caravan or motorhome of up to 10 metres without any trouble. Access to pitches is simple and the ground is perfectly flat. They are ideally located for your holidays in Normandy and are fitted with 6 amps power supplies and a european power plug.
?>
Sanitary facilities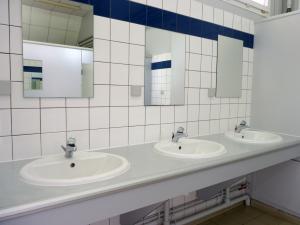 High standing heated toilet and showerblock with clean amenities disinfected daily. They are modern and also feature baby cabins and reduced mobility cabins.
Services areas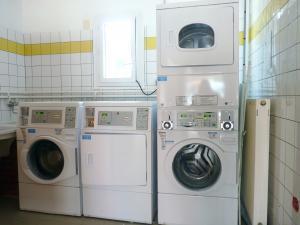 Laundromat: washing machines and dryers are available on the campsite (tokens required)+ iron and ironing board loans/ Service area for motor homes
Barbecue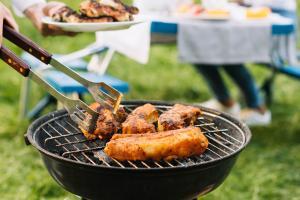 Barbecue and brasero rental
Activities
UN CAMPING PARFAIT POUR UN SEJOUR DETENTE
Notre camping Les Mouettes vous attend avec impatience. Nous vous proposons de découvrir l'univers du Slow Life à travers de nombreuses activités de plein air et il y en a pour toute la famille. Que vous aimiez les balades sur la côte, le sport ou encore les dégustations de produits du terroir, vous serez servis.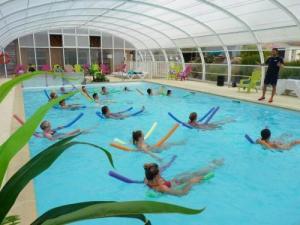 Fitness activities
In our Seasonova Les Mouettes campsite you will be able to take part in many wellbeing activities. Whether you prefer yoga or water aerobics, our campsite has you covered.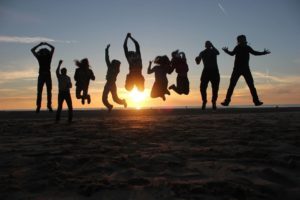 Activities for children
For the little one's delight As a family friendly campsite, our children are our priority. Our Les Mouettes campsite features a playground for children aged 3 to 6 and 6 to 12. Every week in July and August we have pony rides and activities organised for the whole family.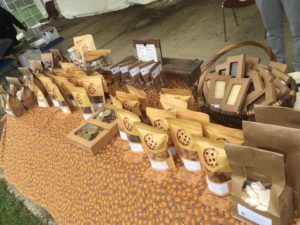 Traditional food markets
Our Seasonova Les Mouettes campsite is located in a region full of different flavours. This is why during summer, you will regularly be able to purchase typical foods from the region. The slow food movement also means going back to traditional produce.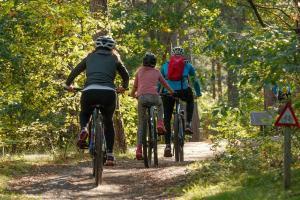 Cycling treks
Cycling holidays are another way to discover the beauty of the Normandy region. Accessible to all levels and abilities, bike riding allows you to discover a wide variety of places and landscapes at your own pace during one single outing. Our Les Mouettes campsite is the ideal starting point for your cycling holidays in France.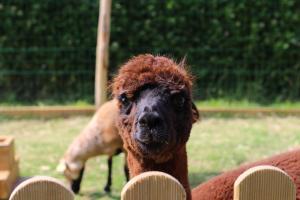 farm
We look forward to introducing you to our beloved residents, for a stay close to nature. You will be delighted to meet our alpaca, Paprika, our goats Choupinette and Paulina, our sheep Désirée and Pêche and our chickens Cocotte and Poupoule. You can also play at being a farmer by feeding the animals with us.
Region
ENTRE TERRE ET MER, A SEULEMENT 1H D'ETRETAT, DECOUVREZ NOTRE BELLE REGION
La côte d'Albâtre est un cadre magnifique qui regorge de paysages et de lieux à découvrir. A seulement 2h30 de Paris, vous pourrez profiter de cette belle région le temps d'un weekend en amoureux ou encore pour un séjour en famille ou entre amis. Vous tomberez à coup sûr sous le charme d'un des plus beaux villages de France, Veules les Roses. Ce dernier est accessible à pied depuis le Camping.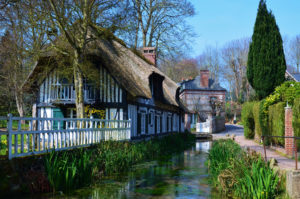 A camping holiday in Veules-les-Roses, France 1km
The village was listed as one of the most beautiful villages in France in 2017, it is also home to the smallest running river in France. You will be able to explore its quaint streets and discover its windmills and watercress bed gardens. Last but not least, you will be able to enjoy the village's beautiful seafront.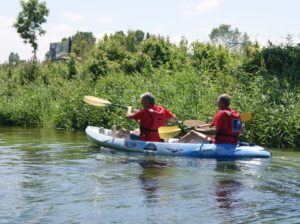 Lac de Caniel leisure base 20km
Take a walk around the lake while discovering the fauna and flora of the region. If you are up to it you can go summer sledding, mini-golfing or even on a pedalo. Numerous activities are available on site for both children and adults.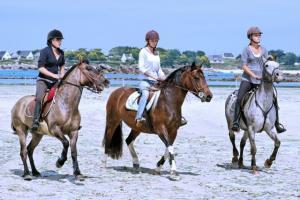 Horse riding excursions 2km
Do you enjoy horse riding? Nathalie from the Val stable in Hautot Sur Mer will share her passion for horses and nature with you. Let yourself be tempted by the magical experience in a peaceful environment. You can book by calling + 33 6 99 45 26 26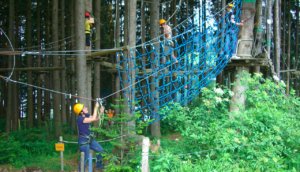 Accrobranche 25km
For those who love adventure and thrills, we recommend you try the Arb'aventure tree climbing park located 20 minutes from the campsite. The park offers different tree climbing courses, from 3 years old, and according to your level. You will also have the opportunity to climb a tree, to do a quick jump, to play paintball or laser game in the open air. Come and spend an exciting day at Arb'aventure. For more information, click here: https://www.arbaventure.fr/fr/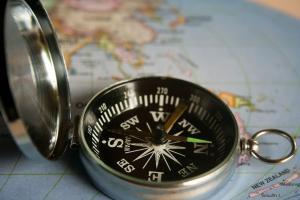 Les activités de plein air
What could be better than discovering magnificent landscapes through an orienteering or geocaching course? The sports department of the Côte d'Albâtre invites you to visit Veulettes-sur-Mer and its surroundings in an original way. For young and old, this activity will bring out your adventurous soul. You can also take part in discovery sessions on mountain bikes or hire the bikes for a more independent ride. And why not try roller skating with your family, friends or partner at the Paluel multi-purpose hall? This discovery activity, combining sport and fun, guarantees laughter and memories.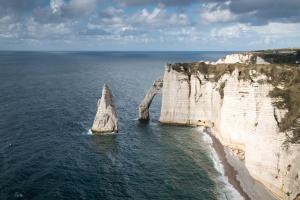 Les randonnées et balades en pleine nature
The Côte d'Albâtre is full of beautiful sites and landscapes that you can admire during your during your hikes. First of all, the GR21, also known as the Sentier des Falaises or Chemins des Douaniers, which starts in Le Havre and ends in Le Tréport, allows you to cover the whole of the Côte d'Albâtre over 194km. This path takes you along the coasts of Veulettes-sur-Mer, Saint-Valéry-en-Caux, Veules-les-Roses or even Sotteville-sur-Mer and its famous staircase. The tourist office of the Côte d'Albâtre has also created a number of walking routes. They can be done on foot, on horseback or by bike according to your wishes. These 29 itineraries are perfect for beginners or for those who have adapted to hiking. You can already find your discovery circuit on the website of the tourist office of the Albâtre coast. You can find all this information and more in the various downloadable guides from the Côte d'Albâtre tourist office: https://cote-albatre-tourisme.fr/telecharger-nos-guides/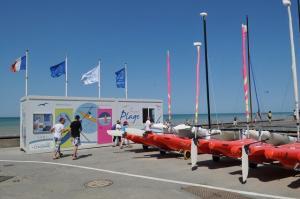 Activité nautiques
The village of Veules les Roses offers its visitors various water sports activities during the summer. You can admire the cliffs by taking a kayak, stand up paddle, catamaran, dinghy or windsurf on the sea. In Saint-Valéry-en-Caux, raise the sail and take a day cruise to the town of Etretat with a stopover in Fécamp. You will also have the opportunity to go on "tidal", "discovery" or "sunset" trips to contemplate the cliffs. Finally, offer your children a discovery session of marine life thanks to the house of the marine environment. The town of Veulettes-sur-Mer offers you the chance to explore the coastline thanks to the Longe Cote discovery sessions, a combination of sport and discovery. Are you a fishing fan or do you want to discover fishing? Come and fish in the river at Cany-Barville with the Association Agréée de Pêche et de Protection des Milieux Aquatiques. It offers you a fishing licence and more than 9km of river banks on the Durdent.
SERVICES AND FACILITIES
ENVIE DE VOUS DETENDRE, PROFITEZ DE NOTRE SPA
Notre camping Seasonova Les Mouettes de Veules les Roses propose de nombreux équipements pour votre plus grand plaisir. Vous aurez également la possibilité de profiter des différents services disponibles pour un séjour slow life réussi. *il est possible que des équipements ne soient pas disponibles en fonction de l'évolution des contraintes sanitaires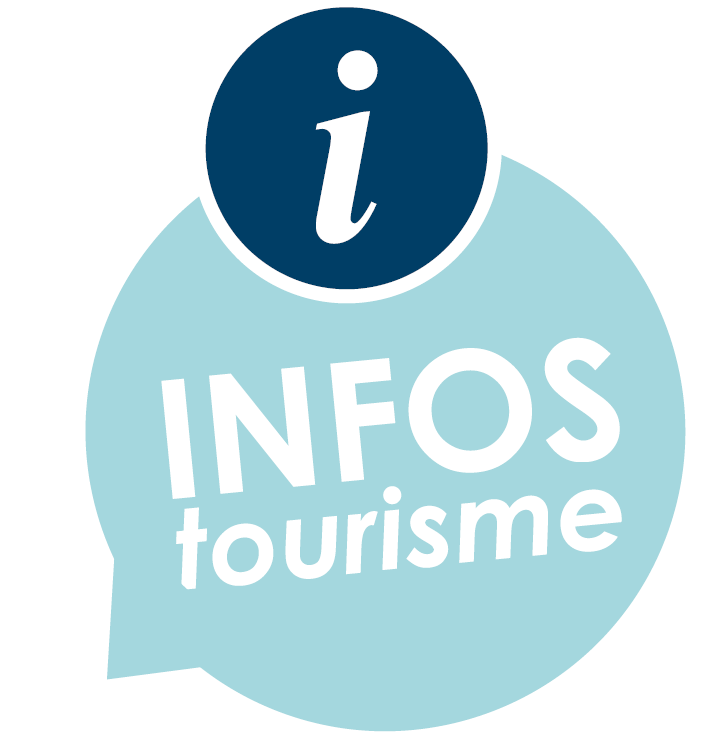 Tapas bar
swimming pool
bread stand
convenience store
Hotel package

( sheet and towels rental, optional cleaning service)
Everything for baby

(bed, chair, pushchair and sanitary facilities)

Laundromat
barbecue
wifi

(fee paying)

teams on site 24/7
board game loans
library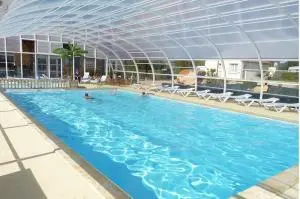 A campsite in Normandy with a swimming pool
Our camping site Les Mouettes features a heated and covered swimming pool so that your family holidays in France turn into an unforgettable memory. What better than a swimming pool to make your children happy?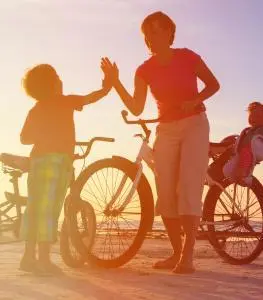 A campsite with bike rentals
Our Seasonova les Mouettes campsite has a bike rental service. The Normandy region is ideal for cycling treks. After a nice ride on the Alabaster coast, you will appreciate your meal on the terrace of our tapas bar all the more!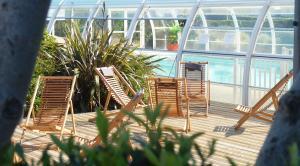 chill point
Whether with family, friends or alone, relax in our chill-out corner with a good drink. The little plus? You enjoy the view of the sea!
array(80) {
  [0]=>
  string(13) "aprim_etoiles"
  [1]=>
  string(13) "aprim_adresse"
  [2]=>
  string(8) "aprim_cp"
  [3]=>
  string(11) "aprim_ville"
  [4]=>
  string(15) "aprim_ouverture"
  [5]=>
  string(18) "aprim_emplacements"
  [6]=>
  string(23) "aprim_camping_telephone"
  [7]=>
  string(21) "blocs_contenu_camping"
  [8]=>
  string(25) "blocs_contenu_hebergement"
  [9]=>
  string(25) "blocs_contenu_a_proximite"
  [10]=>
  string(25) "blocs_contenu_equipements"
  [11]=>
  string(23) "blocs_contenu_activites"
  [12]=>
  string(20) "blocs_contenu_tarifs"
  [13]=>
  string(14) "galerie_photos"
  [14]=>
  string(30) "aprim_camping_secureholiday_id"
  [15]=>
  string(30) "hebergement_titre_introduction"
  [16]=>
  string(30) "hebergement_texte_introduction"
  [17]=>
  string(21) "hebergement_vignettes"
  [18]=>
  string(17) "aprim_ordre_carte"
  [19]=>
  string(19) "aprim_camping_email"
  [20]=>
  string(21) "aprim_camping_form_id"
  [21]=>
  string(5) "label"
  [22]=>
  string(14) "camping_labels"
  [23]=>
  string(22) "aprim_camping_brochure"
  [24]=>
  string(18) "aprim_camping_plan"
  [25]=>
  string(19) "aprim_camping_video"
  [26]=>
  string(27) "aprim_camping_plan_vignette"
  [27]=>
  string(22) "aprim_camping_baliseh1"
  [28]=>
  string(21) "script_secure_holiday"
  [29]=>
  string(7) "widgets"
  [30]=>
  string(16) "utiliser_les_ids"
  [31]=>
  string(24) "script_secure_holiday_id"
  [32]=>
  string(7) "galerie"
  [33]=>
  string(10) "galerie_en"
  [34]=>
  string(10) "galerie_de"
  [35]=>
  string(10) "galerie_nl"
  [36]=>
  string(9) "region_h1"
  [37]=>
  string(21) "aprim_camping_horaire"
  [38]=>
  string(9) "video_img"
  [39]=>
  string(10) "google_map"
  [40]=>
  string(20) "aprim_camping_tarifs"
  [41]=>
  string(11) "pointer_pos"
  [42]=>
  string(6) "equipe"
  [43]=>
  string(8) "cat_actu"
  [44]=>
  string(5) "title"
  [45]=>
  string(8) "subtitle"
  [46]=>
  string(11) "the_content"
  [47]=>
  string(6) "langue"
  [48]=>
  string(5) "modes"
  [49]=>
  string(12) "bon_a_savoir"
  [50]=>
  string(14) "moyen_paiement"
  [51]=>
  string(12) "presentation"
  [52]=>
  string(14) "title_location"
  [53]=>
  string(20) "the_content_location"
  [54]=>
  string(17) "liste_hebergement"
  [55]=>
  string(18) "title_emplacements"
  [56]=>
  string(20) "emplacements_wysiwyg"
  [57]=>
  string(18) "liste_emplacements"
  [58]=>
  string(26) "liste_emplacements_confort"
  [59]=>
  string(15) "liste_insolites"
  [60]=>
  string(15) "title_activites"
  [61]=>
  string(21) "the_content_activites"
  [62]=>
  string(9) "activites"
  [63]=>
  string(12) "title_region"
  [64]=>
  string(18) "the_content_region"
  [65]=>
  string(7) "regions"
  [66]=>
  string(14) "title_services"
  [67]=>
  string(29) "services_equipements_pictos_1"
  [68]=>
  string(34) "services_equipements_pictos_list_1"
  [69]=>
  string(28) "services_equipements_content"
  [70]=>
  string(25) "services_equipements_col1"
  [71]=>
  string(25) "services_equipements_col2"
  [72]=>
  string(29) "services_equipements_pictos_2"
  [73]=>
  string(34) "services_equipements_pictos_list_2"
  [74]=>
  string(25) "services_equipements_list"
  [75]=>
  string(8) "facebook"
  [76]=>
  string(9) "instagram"
  [77]=>
  string(7) "twitter"
  [78]=>
  string(7) "use_cf7"
  [79]=>
  string(24) "shortcode_contact_form_7"
}