Nature holidays and conviviality
Wide open spaces in a quiet and friendly environment. Camping Etennemare is located on the seafront, next to the Etennemare wood, a few minutes from the centre of Saint-Valery-en-Caux. The location is ideal for nature lovers.

A campsite with a covered and heated swimming pool in Normandy
Come and spend a family holiday in the heart of the Côte d'Albâtre, 2 hours from Paris, between Dieppe and Etretat. The Saint-Valéry-en-Caux campsite is perfectly safe for your children. It is the starting point for your weekend ideas in Normandy. You can have fun in the indoor pool area with slide. The free shuttle bus to the town centre and the beach will take you to try out the many activities in the area.

Good to know


Access for people with reduced mobility (according the rentals)


Pets allowed * (according the rentals)
Spoken languages
French

English
News

Réservez en toute sécurité chez seasonova
Because a successful stay starts with a serene reservation, Seasonova makes your life easier. If you opt for a reservation without cancellation guarantee, you will still benefit from a refund* within 48 hours (working days) in the following cases : [...]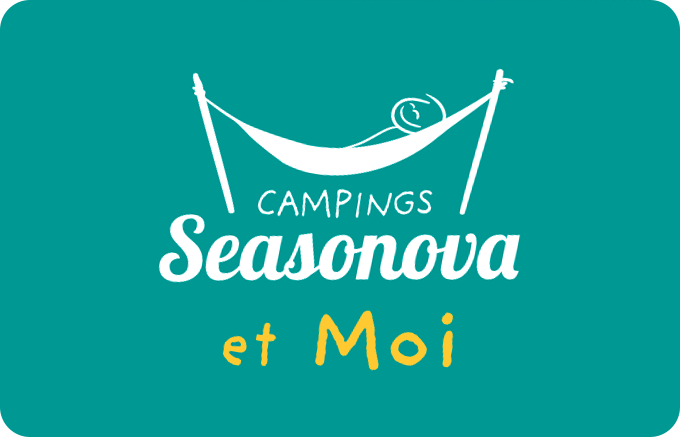 Do you know the
loyalty card?
Many advantages*
Join our tribe
and receive exclusive offers
* according to general conditions of use
Rentals
Want to participate in the activities of the campsite while being like at home ?
Here you will find locations for 4 to 6 people. With family or friends, you can enjoy your meal inside or outside on the terrace.
Get out the deckchair to do some sunbathing in a green setting!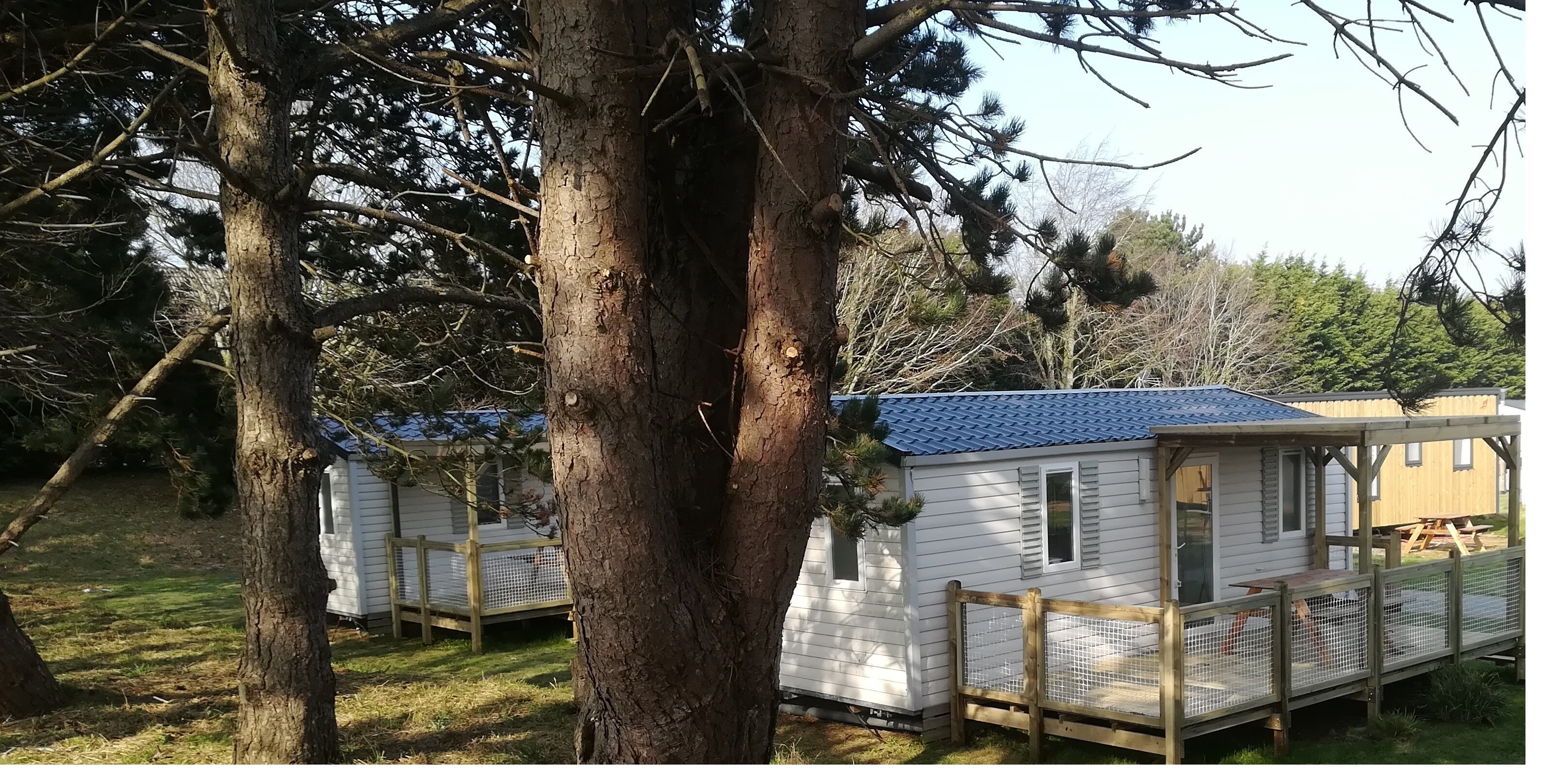 Pitches
Want to pitch your tent at a family campsite?
Here you will find great pitches from 80 to 150 m²., by hedges for more privacy. tranquillity. Each pitch is equipped with an electrical connection 10 Amps and European plug. And if you are used to going on holiday with your pets and animals, they are welcome on all terrains.
Sanitary facilities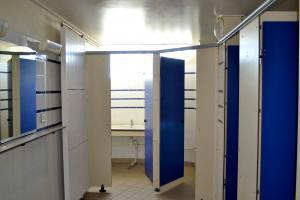 Heated and high standing toilet and shower blocks with modern and clean amenities, baby cabines and reduced mobility cabins.
Services Areas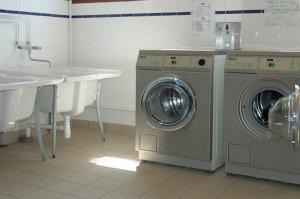 Laundromat: washing machines and dryers are available on the campsite (tokens required)
+Ironing table and iron loans
Wastewater drainage for motorhomes
Barecue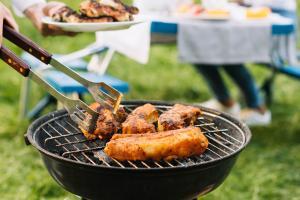 Barbecues and braseros available for hire
Activities
Whether you're with your family, group, friends or even solo, you'll be spoilt for choice when it comes to filling your holiday days.
Daytime entertainment :
Little farmer's workshop
Relaxation, muscular awakening
Treasure hunt...
And in the evening: campfire evening, sunset, storytelling evening
Fun for all ages and a fun family holiday!

Children's activities
let's have fun on holidays
Lea runs arts and crafts every morning from 10am to 12pm. Children will also be able to go on a pony ride around the campsite once a week. For older children we have archery with Kevin the manager, petanque competitions and badminton and volley courts plus ping pong tables available at any time.

Nature holidays
Nature holidays are also perfect a time to (re)discover animals. The pigs: Peppa and Pig are friendly and get their names from a very well known cartoon loved by the little ones. their friends the hen and themselves cannot wait to have you come over for a visit and bring them a little snack.
The little farmer's workshop takes place every morning at the campsite. Amanda and her daughter Louna take care of the animals all year round. " I had a greedy hen who used to jump on pigs' backs to get her food faster..hens are quite clever after all!"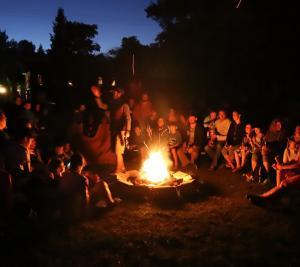 Theme nights
It is time for a tale! Want to escape? You will experience new adventures through hearing stories told round a campfire. Embark on an enchanted journey in a warm atmosphere. If you prefer a musical getaway while camping in Normandy, come and listen to the sound of a guitar under the stars.

water sports
Even if you are not a sports enthusiast you will easily be able to practice this water activity. The muscle awakening class in the pool combines relaxation in the water with exercise. Once immersed in the water the body only weighs a third of its terrestrial weight, which makes mouvement much easier. Only thirty minutes of water aerobics is the equivalent of an hour and a half of aerobics on the ground!

Randonnées à vélo
La randonnée à vélo est une autre manière de parcourir les chemins et les sentiers de la côte d'Albâtre. Accessible aux débutants comme aux plus expérimentés, le vélo permet de découvrir à son rythme une grande variété de lieux et de paysages au cours d'une même promenade. Notre camping vous propose une location de vélos afin d'être le point de départ idéal pour vos balades en deux roues, et nous vous conseillons des itinéraires à vélo.
Region
Between the Seine and the sea, the Caux region is a vast limestone plateau that extends to the buttonhole of the Pays de Bray. A unique place in France.
Your stay at the Etennemare campsite will be an opportunity to practice your favourite leisure activities or to discover new ones: golf, equitation, tennis, pêche en mer…
Heritage : Etennemare wood, cliffs of the Alabaster coast, land of the impressionists
Gastronomy : duck à la rouennaise, neufchâtel, graval, Normandy pie
Tourist route : the customs route
Sport nature : horse riding, hiking trails, mountain biking, canoeing/kayaking, golf
Visits : lhe garden of the seas, the cliffs of Etretat, Fécamp, Dieppe, Rouen, Le Havre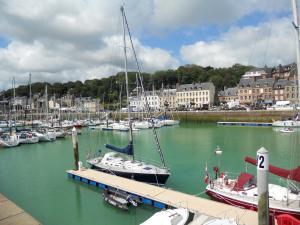 The Saint-Valery-en-Caux seaside resort 1,5km
A small village on the Alabaster coast located in Northern France 60kms off Rouen and 200kms off Paris, Saint-Valery-en-Caux offers many different attractions to its visitors. Discover this small seaside resort in the Pays de Caux as well as its lush green inland and its pebbled beach surrounded by white limestone cliffs. The port is only a stone's throw away from the shops and services of the resort. It can host up to 600 boats.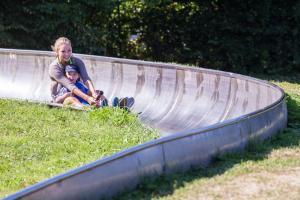 Lake Caniel leisure base 11km
At the heart of the Durdent valley in Vittefleur, the lake Caniel is an exceptional environment for many activities. You can take a small 2.5km hike around the lake while discovering fauna and flora of our region. There are many activities for all ages such as sledding, a skate park and paddle boats but also water skiing, canoeing, an aquaparc … Your children will also be able to enjoy the Ludiboo village: bouncy castles, trampoline, covered play area from children ranging from 2 to 12 years of age. After so many activities, time to relax at the bar with inside sitting or outside on the terrace with views on the lake. Let's not forget the entertainment: concerts, karaoke, open air cafe.. Swimming is supervised by lifeguards in July and August.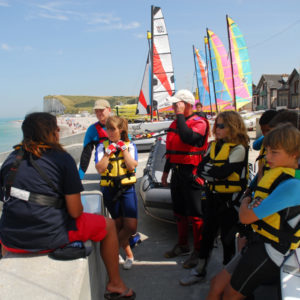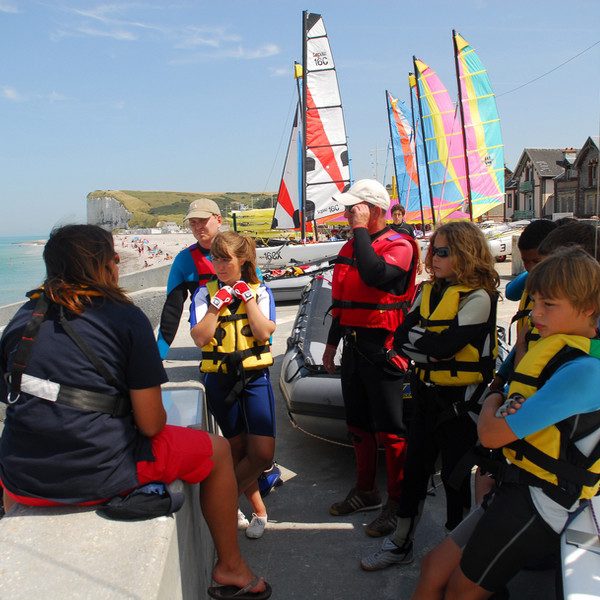 Local nautical club 1,2km
For the children but also for the grown ups, it is the perfect occasion to experience sailing and the marine world. You will be able to practice on Optimist boats, learn about the marine environment and discover the foreshore. There are also sea cruises available and outings on old sailing ships with the association "Professeur GOSSET"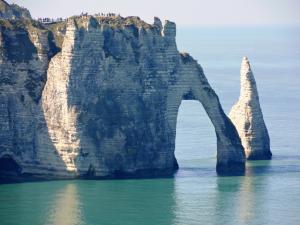 Etreta cliffs 48km
The cliffs in Etretat are world famous. The natural openings of the site which is listed as a national landmark are called: Porte D'Amont, Porte d'Aval and Manneporte. When the tide is low you will be able to discover oyster farms dating back to the 17th century and the legendary "trou à l'homme". When walking along the hiking trails the fauna and the flora will come alive right before your eyes: herring gull, northern fulmar and peregrine falcon...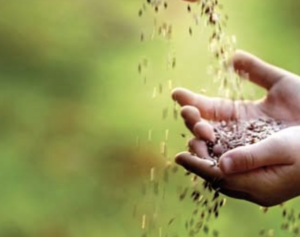 Festivals in Veules-les-Roses 8km
Specialists in gardening decoration , jewelry and artisanal products centred around roses and plants will all be present. 1st weekend of July. Linen Festival You will be able to visit a retting factory, exhibitions on contemporary or traditional textile art, fashion shows, introduction workshops.. Linen has marked the history of the Pays de Caux and shapes the landscape of this land from Spring to Autumn. There are some great landscapes to explore while going on a hike organised by linen professionals.
Services
We are here to help you have a pleasant stay at Seasonova campsites.
We have thought of everything for a fun and easy holiday.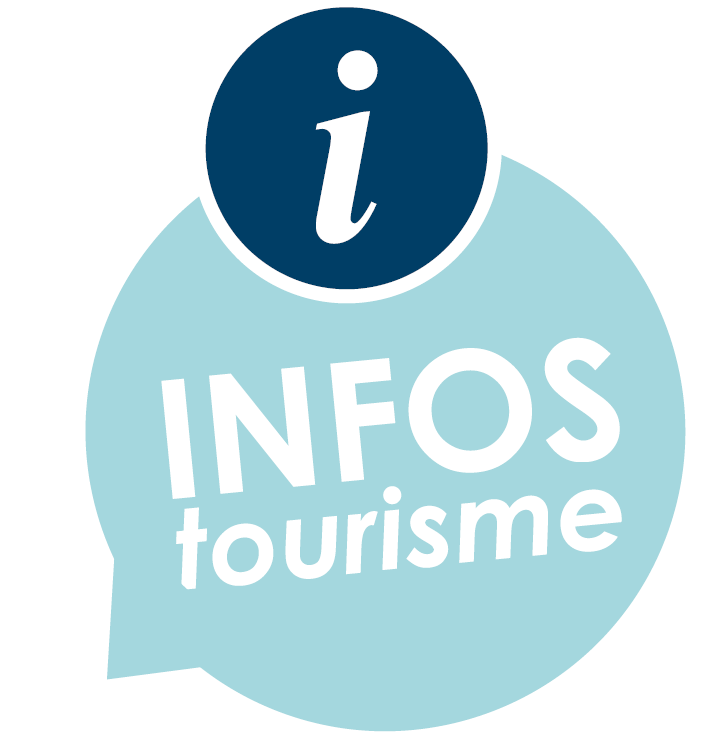 Tapas bar
bread stand
convenience store
Breakfasts upon order
Local produce market

(once a week in July and August)

Hotel package

( sheet and towels rental, optional cleaning service)
Everything for baby

(bed, chair, pushchair and sanitary facilities)

Laundromat
wifi

(fee)

teams on site 24/7
board game loans
library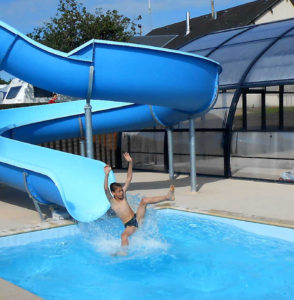 swimming pool
150 square metres covered and heated swimming pool with water slide for the whole family. It features a paddling pool and an outside water slide for the children and a covered swimming area for a relaxing time. You will be able to enjoy swimming in a heated pool whatever the forecast might be.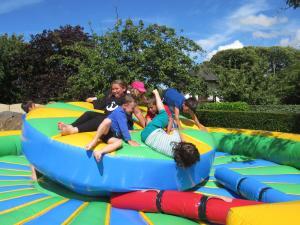 Playgrounds
Your children need to move around? Of course like any child does! We have designed play areas where they will be able to make new friends. Discover our playgrounds for young children and our bouncy castles for older ones.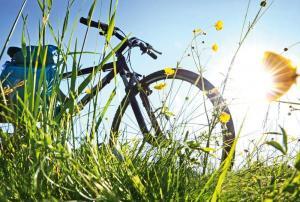 Bikes
Want to go on a bike ride? Cycling is an ideal way to discover the Normandy region through slow tourism. In order to be able to travel light for your holidays in France, we offer an array of bike rental options: from half a day to the whole week, it is up to you. Make your holidays worry free by booking in advance.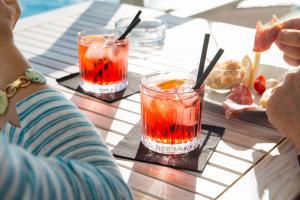 Chill area
What if we sat down in the chill area of the terrace? We have designed a relaxation space in a simple and organic atmosphere surrounded by bamboo. With a variety of armchairs, bean bags and deckchairs to read, sip a fruit juice, eat an ice cream or even enjoy some tapas with family or friends. A little extra for the parents: the chill area is located right next to the swimming pool to keep an eye on your children.
array(85) {
  [0]=>
  string(13) "aprim_etoiles"
  [1]=>
  string(13) "aprim_adresse"
  [2]=>
  string(8) "aprim_cp"
  [3]=>
  string(11) "aprim_ville"
  [4]=>
  string(23) "aprim_camping_telephone"
  [5]=>
  string(21) "blocs_contenu_camping"
  [6]=>
  string(25) "blocs_contenu_hebergement"
  [7]=>
  string(25) "blocs_contenu_a_proximite"
  [8]=>
  string(25) "blocs_contenu_equipements"
  [9]=>
  string(23) "blocs_contenu_activites"
  [10]=>
  string(20) "blocs_contenu_tarifs"
  [11]=>
  string(14) "galerie_photos"
  [12]=>
  string(15) "aprim_ouverture"
  [13]=>
  string(18) "aprim_emplacements"
  [14]=>
  string(30) "aprim_camping_secureholiday_id"
  [15]=>
  string(30) "hebergement_titre_introduction"
  [16]=>
  string(30) "hebergement_texte_introduction"
  [17]=>
  string(21) "hebergement_vignettes"
  [18]=>
  string(17) "aprim_ordre_carte"
  [19]=>
  string(19) "aprim_camping_email"
  [20]=>
  string(21) "aprim_camping_form_id"
  [21]=>
  string(14) "camping_labels"
  [22]=>
  string(19) "aprim_camping_video"
  [23]=>
  string(22) "aprim_camping_brochure"
  [24]=>
  string(18) "aprim_camping_plan"
  [25]=>
  string(22) "aprim_camping_baliseh1"
  [26]=>
  string(21) "script_secure_holiday"
  [27]=>
  string(7) "widgets"
  [28]=>
  string(16) "utiliser_les_ids"
  [29]=>
  string(24) "script_secure_holiday_id"
  [30]=>
  string(7) "galerie"
  [31]=>
  string(10) "galerie_en"
  [32]=>
  string(10) "galerie_de"
  [33]=>
  string(10) "galerie_nl"
  [34]=>
  string(9) "region_h1"
  [35]=>
  string(21) "aprim_camping_horaire"
  [36]=>
  string(9) "video_img"
  [37]=>
  string(10) "google_map"
  [38]=>
  string(20) "aprim_camping_tarifs"
  [39]=>
  string(11) "pointer_pos"
  [40]=>
  string(6) "equipe"
  [41]=>
  string(8) "cat_actu"
  [42]=>
  string(5) "title"
  [43]=>
  string(8) "subtitle"
  [44]=>
  string(11) "the_content"
  [45]=>
  string(6) "langue"
  [46]=>
  string(5) "modes"
  [47]=>
  string(5) "label"
  [48]=>
  string(12) "bon_a_savoir"
  [49]=>
  string(14) "moyen_paiement"
  [50]=>
  string(12) "presentation"
  [51]=>
  string(14) "title_location"
  [52]=>
  string(20) "the_content_location"
  [53]=>
  string(17) "liste_hebergement"
  [54]=>
  string(18) "title_emplacements"
  [55]=>
  string(20) "emplacements_wysiwyg"
  [56]=>
  string(18) "liste_emplacements"
  [57]=>
  string(26) "liste_emplacements_confort"
  [58]=>
  string(15) "liste_insolites"
  [59]=>
  string(15) "title_activites"
  [60]=>
  string(21) "the_content_activites"
  [61]=>
  string(9) "activites"
  [62]=>
  string(12) "title_region"
  [63]=>
  string(18) "the_content_region"
  [64]=>
  string(7) "regions"
  [65]=>
  string(14) "title_services"
  [66]=>
  string(29) "services_equipements_pictos_1"
  [67]=>
  string(34) "services_equipements_pictos_list_1"
  [68]=>
  string(28) "services_equipements_content"
  [69]=>
  string(25) "services_equipements_col1"
  [70]=>
  string(25) "services_equipements_col2"
  [71]=>
  string(29) "services_equipements_pictos_2"
  [72]=>
  string(34) "services_equipements_pictos_list_2"
  [73]=>
  string(25) "services_equipements_list"
  [74]=>
  string(8) "facebook"
  [75]=>
  string(9) "instagram"
  [76]=>
  string(7) "twitter"
  [77]=>
  string(27) "aprim_camping_plan_vignette"
  [78]=>
  string(7) "use_cf7"
  [79]=>
  string(24) "shortcode_contact_form_7"
  [80]=>
  string(15) "grp_reservation"
  [81]=>
  string(18) "display_coup_coeur"
  [82]=>
  string(20) "on_bottom_coup_coeur"
  [83]=>
  string(14) "txt_coup_coeur"
  [84]=>
  string(31) "aprim_camping_secureholiday_id1"
}