A green setting in the Vosges
Les Portes d´Alsace, your 3-star campsite in Saverne
Camper au pied des Vosges, pour des vacances nature en Alsace dans notre camping proche de Strasbourg. Il vous offre un parfait pied à terre pour explorer cette belle région. Le panorama exceptionnel vous offre une vue imprenable sur le château du Haut-Barr depuis votre emplacement arboré ou bien depuis un de nos cottages en location. Un cadre magique pour des vacances en pleine nature et découvrir les charmes de l'Alsace en couple, ou en famille.
Notre camping en Alsace avec piscine couverte et chauffée
La piscine est ouverte toute la saison. Les petits seront ravis de barboter dans la pataugeoire, pendant que les plus grands se prélassent au sein de l'espace avec bains à remous. Vous pourrez ensuite partager un moment autour d'un verre ou d'un petit plat sur la terrasse en bois du coin chill. Une ambiance zen pour des vacances détente en Alsace.
Good to know

Access for people with reduced mobility (according the rentals)

Pets allowed * (according the rentals)
News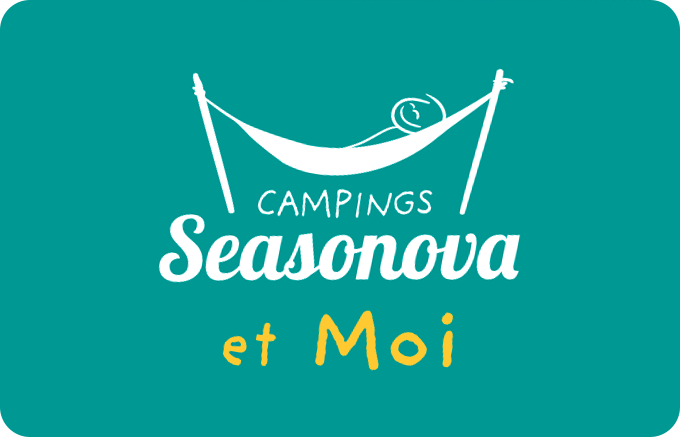 Do you know the
loyalty card?
Many advantages*
Join our tribe
and receive exclusive offers
* according to general conditions of use
Contact Les Portes d'Alsace
Rentals
Vous avez toujours rêvé de dormir dans les arbres ?
Ici on ne dort pas dans les arbres mais en dessous, au coeur du parc naturel des Vosges.
Pour votre séjour à Saverne, vous avez le choix entre le camping traditionnel avec ses 129 emplacements, des mobil-home tout confort et des locations insolites comme nos écolodges et bivouac sur pilotis.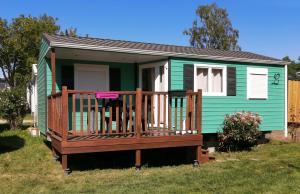 With friends or with family ... Enjoy all the comfort in the living room with a bench seat, fitted kitchen and a large opening onto the wooden terrace , let yourself be seduced by the art of living outdoors.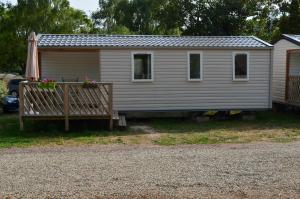 A small holiday home for a large family! Get away with your family in our cottages which accommodate up to 6 people. They have a kitchen and separate toilet to ensure your absolute comfort.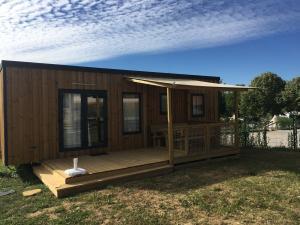 A rental which feels like being in a hotel! Here you only have to put down your luggage. The beds are prepared for your arrival. TV is included as well as the dishwasher. An ideal option for a Zen holiday!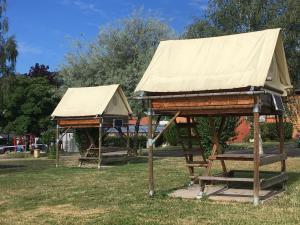 The ideal rental for cyclists and hikers during a stopover. You can reach your bed by climbing up a ladder to sleep high up. For your meals, a table and two benches are installed under the stilts.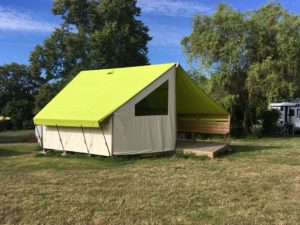 Rent a fully equipped tent! Playful and cozy, our ecolodges welcome you for a nature getaway. Relax in the comfort of a mobile home while enjoying the natural spirit of camping in our canvas chalets.
Pitches
Camper en pleine nature !
Le camping Seasonova Les Portes d'Alsace offre 129 emplacements arborés tout confort avec ou sans branchement électrique. Bénéficiez de prestations trois étoiles d'un camping de qualité, d'un emplacement privatif et soigné face au château du Haut Barr.
Nous accueillons vos animaux de compagnie sur tous les emplacements.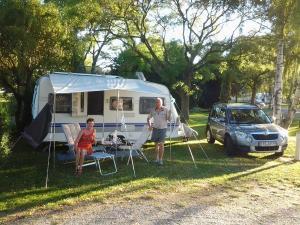 From 80 to 120 m² our pitches are easy to access for all caravans and motorhomes measuring less than 8 meters long and with single axles.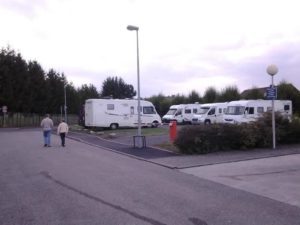 Located at the entrance of the campsite, we offer 12 pitches of 35 m² which are perfectly secure and accessible. To facilitate your holidays in Alsace, you will have the necessary facilities at your disposal to empty your grey waters and fill up with water.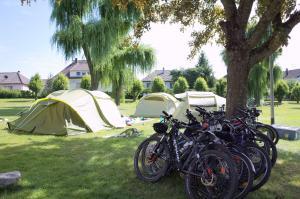 Ideal for nature lovers, cycling tourists and hikers. Come and pitch your tent in a space with amenities such as a picnic table, a water fountain ... The pitches are not delimited and for your peace of mind vehicles do not have access to the pitches.
Sanitary facilities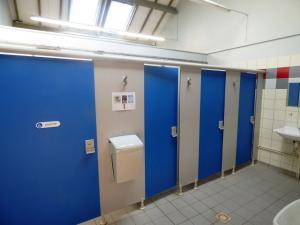 Heated sanitary facilities. Full comfort, suitable for families with young children and accessible to people with reduced mobility.
Service Areas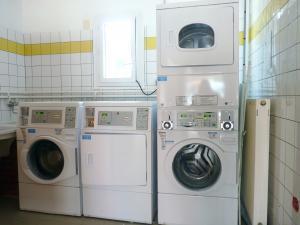 Laundromat : washing machines and tumble dryers are available on the campsite (token operated machines). • Waste water disposal for motorhomes: campsite residents can empty their greywaters and fill up with water for free and easily.
Barbecues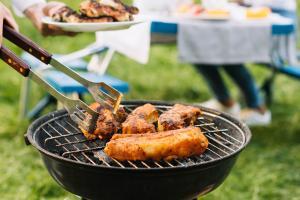 • Want to eat grilled food? Do not hesitate to borrow one of our barbecues from the campsite reception. You can then take the time to eat your sausages, skewers or even freshly caught fish on your own pitch.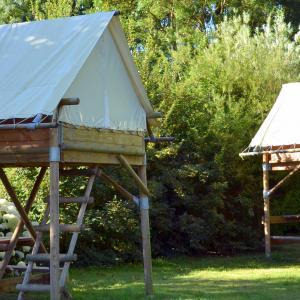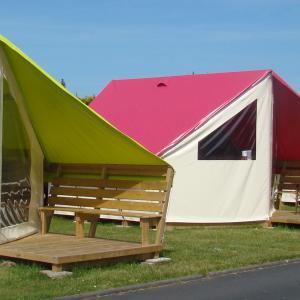 Activities
L'équipe des Portes d'Alsace vous accueille dans son charmant camping, situé dans un cadre authentique et verdoyant. Si le repos est de mise, vous pourrez aussi vous amuser et vous dépenser grâce aux nombreuses animations qui ont lieu en juillet et août !
• initiations sportives et réveil musculaire,
• tournois,
• grands jeux en bois…
Pour les familles, un tas d'occupations permettront de vous occuper, vous et vos enfants : mini club, aire de jeu, espace parents enfants, luge d'été et bien d'autres activités sont disponibles dans le camping et aux alentours !
L'occasion de se retrouver, en famille ou entre amis, petits et grands, et de se créer une montagne de souvenirs !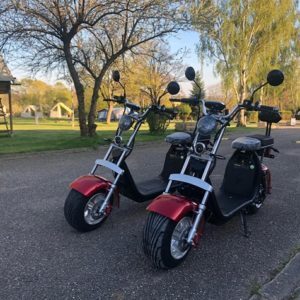 Electric bike rental at the campsite
The sun is out? You would like to travel the roads and cycling paths of Alsace by bike but are you worried about how steep the area is? No problem, at the Portes d'Alsace campsite we have thought about everything and can provide you with electric bikes so that you can travel the territory smoothly! Prices: 1/2 day: 17 €, full day: 25 €, week: 140 € (Ask for the road book and advice from our staff at reception).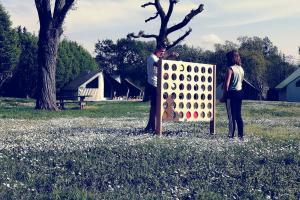 The children and parents' space
Camping holidays are a perfect break from a hectic everyday life. For us, they must also be a moment of reunion and sharing between a parent and their child. Made up of large wooden games, the children and parents' space is suitable for everyone: many large games will be at your disposal to have fun together and simply spend time together.

Local producers market
(once a week in July and August and once a month in low season) Once a week, the local producers' market takes place at the Portes d'Alsace. This is an opportunity to discover or rediscover typical products and to interact with the locals. Alsatian gastronomy is full of specialties: come and taste the wines and beer of Alsace or even its pretzels or sauerkraut ... Holidays in France are also made to treat yourself and your taste buds!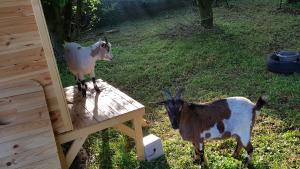 The mini farm: animals on holidays
Nice, the holidays are coming! Our little goats Julio and Luc will be happy, they can have lots of visits and lots of hugs. You can also feed them and collect the eggs from our laying hens. Come quickly, our animals are impatient to meet you during the small farmer's workshops!
Region
Notre camping vous accueille dans un écrin de verdure entre Saverne et le château du Haut-Barr.
Le parc naturel régional des Vosges du Nord ne demande qu'à être exploré !
A 1 heure de Strasbourg, vous pourrez partir le temps d'une journée sillonner la célèbre Grande Île classée au patrimoine mondial de l'UNESCO, sans oublier sa saucisse !
L'Alsace, c'est aussi une terre de châteaux forts, riche en Histoire, que vous pourrez découvrir ou redécouvrir dans les musées, ou grâce aux nombreux sentiers de randonnée balisés pour tous les âges.
• Patrimoine : Château du Haut-Barr, La Roseraie,  Château des Rohan, canal de la Marne au Rhin, parc naturel des Vosges, le plan incliné de Saint-Louis Arziller, centre de réimplantation des cigognes…
• Gastronomie : dégustation des plats du terroir dans les traditionnels « Winstubs » où se situe la cuisine la plus raffinée et la plus étoilée de France.
• Randonnée : GR53 pour aller au château du Haut-Barr, départ du site.
• Route touristique : route du vin.
• Sport nature : équitation, randonnée, circuit vtt, marche nordique, canoë…
• Visites aux alentours : les marchés de Noël en décembre, Le Royale Palace à Kirrwiller, Strasbourg, Colmar, Mulhouse, Europa Park à la frontière allemande (1h du site).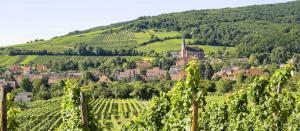 Alsace Wine Route 3km
If you are a wine and gastronomy lover, Alsace will captivate you with its wealth of delicacies. The Alsace wine route, labeled "vineyards and discoveries" is one of the oldest in France. More than 70 historic villages and 5 different vineyards makeup this historic 170 km route. Enough to make great discoveries! Tastings throughout the year are offered by winemakers from the estates on the road. Let's not forget the wine and harvest festivals and other festive and authentic traditions!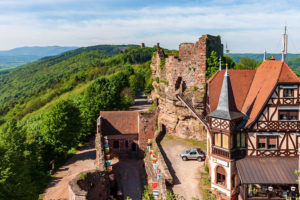 Haut Barr Castle 4km
Are you a fan of History? The Alsace region is full of it and you can discover many remains of the medieval period in the area. Reach the "eye of Alsace", located just half an hour on foot from the campsite! You will be rewarded by the breathtaking view from this 11th century castle, strategically built between Alsace and Lorraine. On a clear day, you can even see the spire of Strasbourg Cathedral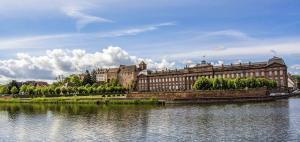 Château des Rohan Archaeological Museum 2km
Did you know that Saverne once was a Roman city? "Tres Tabernae" used to be its latin name. The archaeological museum tells you all about this period in history, with an exhibition full of funerary monuments, steles and many objects from the Gallo-Roman period. If you are interested in archeology, a circuit has also been created where you can admire remarkable rocks, Celtic remains, Gallo Roman and other medieval remains.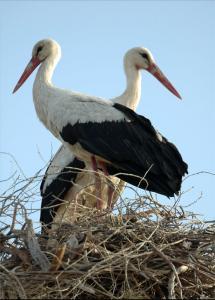 Naturoparc 80km
This 12 acre 100% natural park is located in the small village of Hunawihr. Living in the heart of ancient marshes, wildlife is happier than ever. Come, for a day, observe them and stroll with them in their natural environment. Naturoparc is far from being a park like any other: it is committed to the protection and conservation of endangered regional species, such as the famous white stork, an essential symbol of Alsace. The passionate animal keepers will know how to share their knowledge with you and will be able to answer all of your questions!
Services
Nous sommes là pour vous guider afin que vous passiez un agréable séjour au cœur des campings Seasonova. *il est possible que des équipements ne soient pas disponibles en fonction de l'évolution des contraintes sanitaires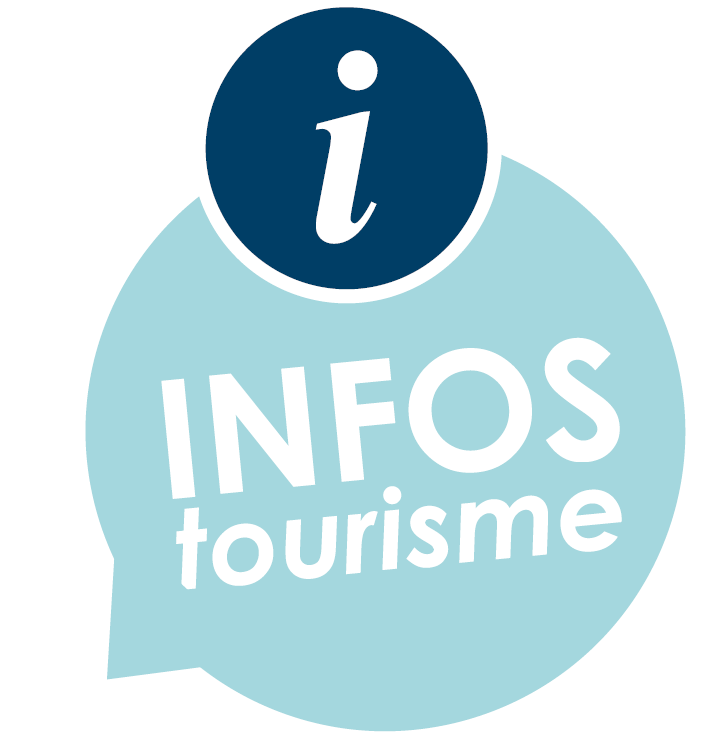 • Tapas bar
• Bread deposit
• Convenience store
• Breakfasts on order
• Local produce market

(once a week in July and August and once a month in low season)

• Hotel package

(rental of sheets and towels, cleaning optional)
• Everything for baby

(bed, chair, stroller and bathroom)

• Laundromat
• Barbecue
• Wifi

(fee paying)

• Teams available 24 hours a day
• board game loans
• Library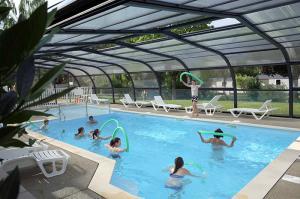 A covered heated swimming pool at the bottom of the Vosges mountains
The swimming pool is open from Easter to All Saints' Day and has a paddling pool of 3.5 by 3.5 metres, a pool of 9 by 5 metres and a space with whirlpools for a relaxing holiday in Alsace. It is fully covered and heated. To start the day off right, you can try the aquatic muscular awakening sessions every morning.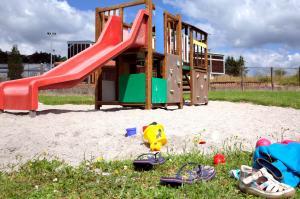 A lively campsite for children
The children's club: our animator welcomes your children from 4 to 10 years old in July and August from Monday to Friday. With each week comes a different theme, your children will discover a whole range of activities adapted to their age and their language (French, English, German). Playgrounds: slide, ping-pong table, volleyball court ... Les Portes d'Alsace takes care of everything so that the little ones thrive in complete safety.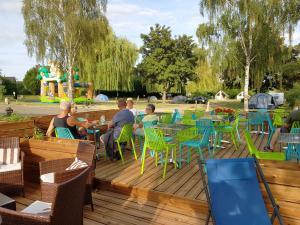 The chill corner: a terrace where you can enjoy ice cream and drinks
While on holidays in France we like to forget what time it is: enjoy the tapas bar all throughout the day (depending on the period). Ice cream and drinks: want to quench your thirst? We offer different drinks, ice cream and small take-out dishes. Bakery and pastries: in season the campsite offers bread and other pastries to pick up in the morning at reception.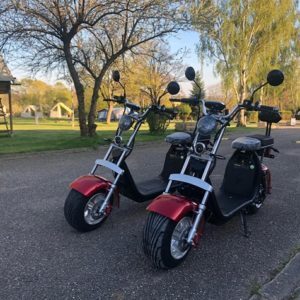 New Basic Runner
The New Basic is a very well finished two-seater runner that is very pleasant to ride. Its powerful torque makes it very pleasant to ride. It is particularly comfortable with two people on board or on steep hills. It is a very good runner for all-day or family riding.
array(80) {
  [0]=>
  string(13) "aprim_etoiles"
  [1]=>
  string(13) "aprim_adresse"
  [2]=>
  string(8) "aprim_cp"
  [3]=>
  string(11) "aprim_ville"
  [4]=>
  string(15) "aprim_ouverture"
  [5]=>
  string(18) "aprim_emplacements"
  [6]=>
  string(23) "aprim_camping_telephone"
  [7]=>
  string(21) "blocs_contenu_camping"
  [8]=>
  string(25) "blocs_contenu_hebergement"
  [9]=>
  string(25) "blocs_contenu_a_proximite"
  [10]=>
  string(25) "blocs_contenu_equipements"
  [11]=>
  string(23) "blocs_contenu_activites"
  [12]=>
  string(20) "blocs_contenu_tarifs"
  [13]=>
  string(14) "galerie_photos"
  [14]=>
  string(30) "aprim_camping_secureholiday_id"
  [15]=>
  string(17) "aprim_ordre_carte"
  [16]=>
  string(30) "hebergement_titre_introduction"
  [17]=>
  string(30) "hebergement_texte_introduction"
  [18]=>
  string(21) "hebergement_vignettes"
  [19]=>
  string(19) "aprim_camping_email"
  [20]=>
  string(14) "camping_labels"
  [21]=>
  string(27) "aprim_camping_plan_vignette"
  [22]=>
  string(22) "aprim_camping_brochure"
  [23]=>
  string(18) "aprim_camping_plan"
  [24]=>
  string(19) "aprim_camping_video"
  [25]=>
  string(21) "aprim_camping_form_id"
  [26]=>
  string(22) "aprim_camping_baliseh1"
  [27]=>
  string(21) "script_secure_holiday"
  [28]=>
  string(7) "widgets"
  [29]=>
  string(16) "utiliser_les_ids"
  [30]=>
  string(24) "script_secure_holiday_id"
  [31]=>
  string(7) "galerie"
  [32]=>
  string(10) "galerie_en"
  [33]=>
  string(10) "galerie_de"
  [34]=>
  string(10) "galerie_nl"
  [35]=>
  string(9) "region_h1"
  [36]=>
  string(21) "aprim_camping_horaire"
  [37]=>
  string(9) "video_img"
  [38]=>
  string(10) "google_map"
  [39]=>
  string(20) "aprim_camping_tarifs"
  [40]=>
  string(11) "pointer_pos"
  [41]=>
  string(6) "equipe"
  [42]=>
  string(8) "cat_actu"
  [43]=>
  string(5) "title"
  [44]=>
  string(8) "subtitle"
  [45]=>
  string(11) "the_content"
  [46]=>
  string(6) "langue"
  [47]=>
  string(5) "modes"
  [48]=>
  string(5) "label"
  [49]=>
  string(12) "bon_a_savoir"
  [50]=>
  string(14) "moyen_paiement"
  [51]=>
  string(12) "presentation"
  [52]=>
  string(14) "title_location"
  [53]=>
  string(20) "the_content_location"
  [54]=>
  string(17) "liste_hebergement"
  [55]=>
  string(18) "title_emplacements"
  [56]=>
  string(20) "emplacements_wysiwyg"
  [57]=>
  string(18) "liste_emplacements"
  [58]=>
  string(26) "liste_emplacements_confort"
  [59]=>
  string(15) "liste_insolites"
  [60]=>
  string(15) "title_activites"
  [61]=>
  string(21) "the_content_activites"
  [62]=>
  string(9) "activites"
  [63]=>
  string(12) "title_region"
  [64]=>
  string(18) "the_content_region"
  [65]=>
  string(7) "regions"
  [66]=>
  string(14) "title_services"
  [67]=>
  string(29) "services_equipements_pictos_1"
  [68]=>
  string(34) "services_equipements_pictos_list_1"
  [69]=>
  string(28) "services_equipements_content"
  [70]=>
  string(25) "services_equipements_col1"
  [71]=>
  string(25) "services_equipements_col2"
  [72]=>
  string(29) "services_equipements_pictos_2"
  [73]=>
  string(34) "services_equipements_pictos_list_2"
  [74]=>
  string(25) "services_equipements_list"
  [75]=>
  string(8) "facebook"
  [76]=>
  string(9) "instagram"
  [77]=>
  string(7) "twitter"
  [78]=>
  string(7) "use_cf7"
  [79]=>
  string(24) "shortcode_contact_form_7"
}