Conviviality by the water
The 3-star campsite is located in Rochefort-sur-Loire near the Louet river and in the region of the great castles of France. A green, friendly and family-friendly space to unwind a few kilometres from Angers. At the Plages de Loire, you can appreciate the shade of the large trees, the calm, a natural area dotted with tent fabrics …
Enjoy a maximum of open air activities!
When you go camping in the Loire it is impossible to get bored, you will find many sports equipment: mini-golf, bike and canoe rental … and entertainment: sports tournaments, collaborative games, grills, themed evenings … In the surrounding area, you can swim at the beaches du Louet or in the municipal swimming pool located 50 metres from the campsite for free.
A camping site with a SPA to unwind
For an even more pleasant holiday in France, we take care of you in our beauty institute and Spa. You will be able to fully enjoy the benefits of the hot tub, Sauna and Hammam.
Good to know


Access for people with reduced mobility (according the rentals)


Pets allowed * (according the rentals)
News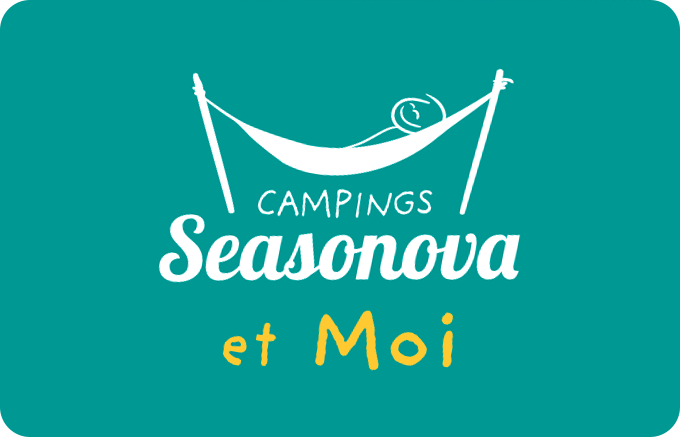 Do you know the
loyalty card?
Many advantages*
Join our tribe
and receive exclusive offers
* according to general conditions of use
Contact Les Plages de Loire
Rentals
Have you always dreamed of living in the middle of nature?
For your stay in Rochefort-sur-Loire, you have the choice between a traditional camping holiday with our 93 pitches, the comfort of the cottages and the originality of a bivouac on stilts. Whatever your selection, you will be between heaven and earth and with your head in the stars.
Pitches
Camping at the heart of nature
The Seasonova Les Plages de Loire campsite offers 88 comfortable shaded pitches with or without electricity. We offer a wide choice of pitches from 80 to 220 m² to meet all of your requirements. We welcome motorhomes with a preferential rate .
Sanitary facilities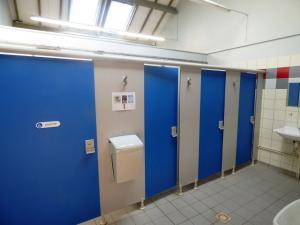 Heated sanitary facilities
Closed in sanitary facilities, comfortable, suitable for families with young children and accessible to people with reduced mobility.
Service Areas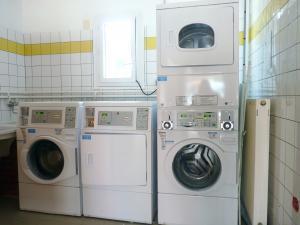 • Laundromat: washing machines and dryers are available on the campsite (token-operated machines). Iron and ironing board loan. • Motorhome service area: outside the campsite to drain greywater and fill up with water
Barbecues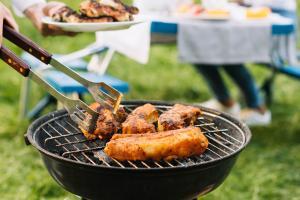 • Want to eat grilled food? Do not hesitate to borrow one of our barbecues from the campsite's reception. You can then take the time to taste your sausages, skewers or even freshly caught fish, on your pitch.
Activities
ACTIVE HOLIDAYS IN THE COUNTRY
In July and August, the campsite team offers an entertainment schedule suitable for all ages • sports initiation and muscular awakening, • tournaments, • discovery of the village… The evenings are also lively: themed evenings, Karaoke, Boule Frite, winegrower's evening, immerse yourself in the wonderful world of Cabaret en Délire! New in 2020: "slow living" activities. Log out and disconnect! Enjoy our evenings by the campfire, Qigong lessons, relaxation sessions and guided walks.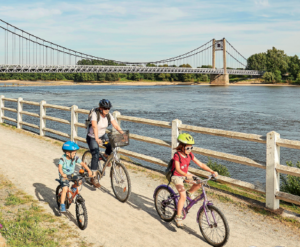 Bike rental at the campsite
Bike relay and labeled Loire à Vélo, our campsite in Loire is a starting point for your sports excursions. Inland, the vines soak up the sun to let you taste quality grapes. Discover our winegrowers and their know-how on the Loire à Vélo route. Hear the story of the Pont Perrault estate and of Jean Jacques, the winegrower. He will surely let you taste his 11 PDO wines! Prices: 1/2 Day: 8 € adults / 6 € children – Full Day: 12 € / 9 € – Week: 60 € / 50 €, as well as the accessories: Baby carrier: 2 € – Child trailer: 8 € / 11 €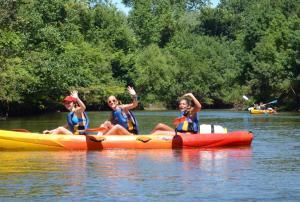 Travel down the river: Le Louet
With friends or family, discover the banks of the Louet in a Canoe Kayak. We offer different 2-hour or full-day outings with mini bus service. Departure or return from/to the Plages de Loire leisure center attached to the campsite. Prices for campers (per person): 14 km: € 17.50 – 8 km: € 12.50 – 6 km: € 8.50 – 22 km: € 24.00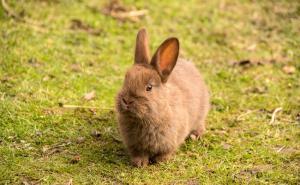 Nature holidays with farm animals
For the delight of young children, we have created a space just for them! Come and pet the rabbits, they all have a little something that differentiates them: large upright ears for some and for others rather plunging. For a camping holiday that awakens all of your senses, you will be able to taste the strawberries from the vegetable patch or smell its aromatic herbs. Watering cans and meals for the animals await you during the small farmer's workshops.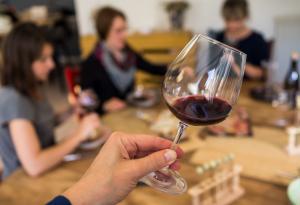 Discover the local wines.
Tasting a Coteau du Layon or a Coteau de l'Aubance means enjoying the sweetness of the Angevine while savouring a moment of gourmet pleasure. To be consumed at a wine grower's, but always in moderation!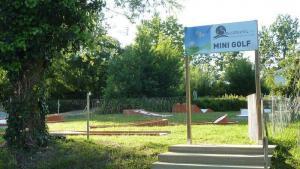 Mini Golf Les Plages de Loire
A miniature world at the entrance of the campsite with courses for the family. We provide you with equipment suitable for all ages. Free of charge for camping customers.
Region
EXPERIENCE MAINE AND LOIRE
Bordered by the Louet and the Loire, the campsite is undeniably located on a territory of water and rivers. In 2000, UNESCO classified the Loire Valley as a World Heritage Site and a cultural landscape. You can discover the flora and fauna of this protected area. L'Anjou is also a place full of history: a visit to the Loire castles will take you back in time. Camping in the Maine et Loire region is perfect for nature and discovery holidays.
• Heritage: Loire Anjou-Touraine Regional Natural Park.
•Gastronomy: taverns on the banks of the Loire, Anjou cuisine and Anjou vineyards.
•Hiking: 280 km of hiking trails.
•Tourist route: wine route, AT the heart of Layon, the Loire by bike…
•Nature sports: swimming in the Louet, canoeing / kayaking, hiking trail, mountain biking circuit.
•Visits nearby: Saumur and its Black surroundings, Angers, Nantes, Le Puy du fou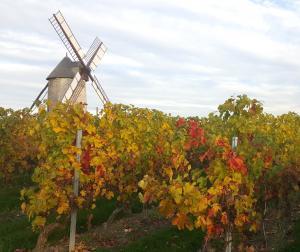 Hiking in the Coteaux du Layon 3km
Put on your sneakers to discover the wine landscapes. Routes will guide you through the vineyards and along the banks of Layon and Aubance. There are trails for all levels from Chaudefonds-sur-Layon, Champ-sur-Layon… In some places it can get steep! Crossing the hillsides, the panoramas offer a view of the splendid Loire Valley and Layon. The Vauchrétien region is dotted with windmills and vine shacks, which once served as a refuge for winegrowers and stables for horses.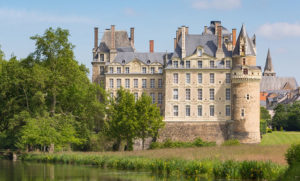 Brissac Castle 18km
Visiting this Renaissance gem with your family or a group is like going back to the Renaissance! The highest castle in France, Brissac, with 7 floors and 204 rooms, deserves its nickname "Giant of the Loire Valley". The numerous rooms reveal family memories, dazzling decorations like its gilded leaf ceilings, and even a 200-seat Opera hall: the Belle Epoque theater. The visit ends in the cellar of the chateau with a tasting and sale of the estate's wines. Anjou Villages Brissac and Rosé d'Anjou wines age slowly in the silence of the stone vaults.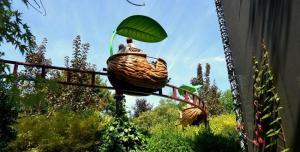 Terra Botanica - Plant theme park 25km
Explore the world of plants in Angers! Terra Botanica Park is landscaped with extraordinary gardens with exotic plants, lush gardens, grandmother's alley and carnivorous plants. It is also a fabulous place for games and entertainment: the island of elves, the dynamic cinema in 4D, walnut shell walks in the air, the butterfly greenhouse ... Between fun adventures and botanical discoveries, young and old find their place in the first plant park in Europe.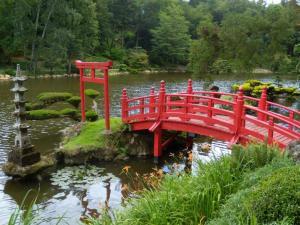 Maulévriers Oriental Park 46km
A real travel experience for a colourful visit of Europe's largest Japanese garden. You will be enchanted by the Zen atmosphere that reigns in this park. A unique place to see and visit in any season on a self-guided or guided tour.
Services and Facilities
Diensten en apparatuur
We are here to guide you so that you have a pleasant stay in the heart of Seasonova campsites. We have thought of everything for a fun and easy holiday.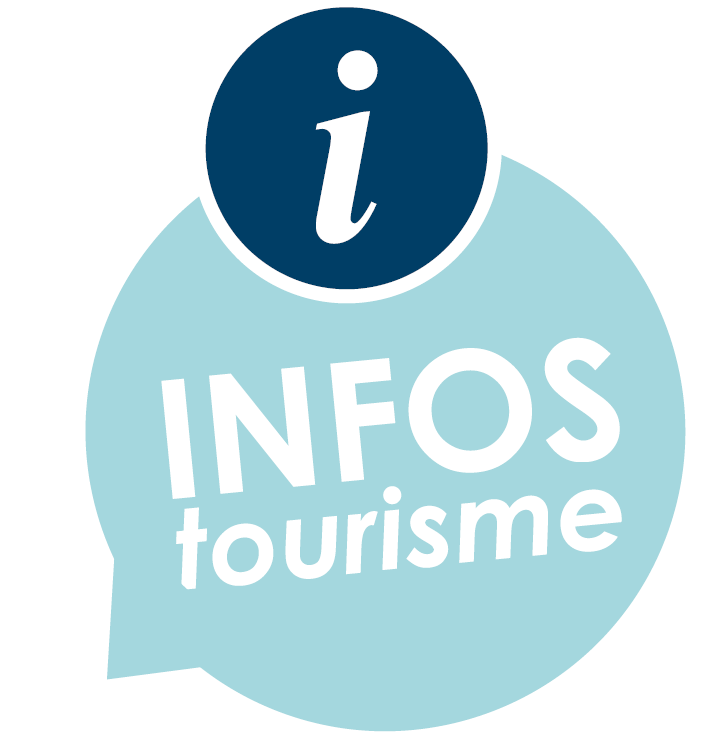 Tapas bar
bread stand
convenience store
Breakfasts upon order
Local produce market

(once a week in July and August)

Hotel package

( sheet and towels rental, optional cleaning service)
Everything for baby

(bed, chair, pushchair and sanitary

facilities)
Laundromat
Barbecue
wifi

(fee)

teams on site 24/7
board game loans
library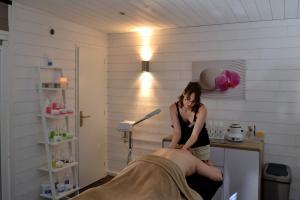 Take care of yourself at the SPA des Plages de Loire
Hot Tub, sauna and hammam ... Come and relax for a moment in our beauty salon & Spa. Chloé and Emeline, our esthetician spa practitioners, offer you a wide range of services: facials, waxing, massages…). Treatments made with organic products suitable for women, men, teens and children.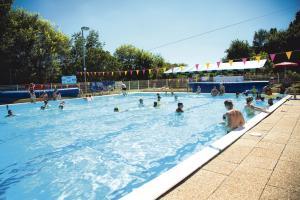 Outdoor swimming pool with a paddling pool
Open in June (every day except Monday) children and adults access the municipal swimming pool and the paddling pool, supervised by a lifeguard, free of charge. Water aerobics and evening music will delight swimming enthusiasts. The swimming pool is located 50 meters in front of the campsite. Scheduled works will push back the reopening of the small pool (indoor pool) from September 2020.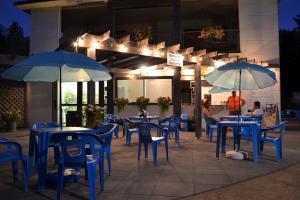 Restaurant - Snack - Bar
On holidays we like to forget what time it is: enjoy the tapas bar throughout the day (depending on the period), or order your take-out meal, like the jars of our charcuterie delicatessen caterer in Angers. In 2020, "La Cuisine tartine" is getting a facelift. We have designed a new menu with the essentials: homemade burgers, fries, ice cream but also mixed salads, sandwiches and a daily menu prepared with local products. Download our menu here. Catering and venue rental possible upon reservation and depending on availability (except July and August)
array(84) {
  [0]=>
  string(13) "aprim_etoiles"
  [1]=>
  string(13) "aprim_adresse"
  [2]=>
  string(8) "aprim_cp"
  [3]=>
  string(11) "aprim_ville"
  [4]=>
  string(15) "aprim_ouverture"
  [5]=>
  string(18) "aprim_emplacements"
  [6]=>
  string(23) "aprim_camping_telephone"
  [7]=>
  string(21) "blocs_contenu_camping"
  [8]=>
  string(25) "blocs_contenu_hebergement"
  [9]=>
  string(25) "blocs_contenu_a_proximite"
  [10]=>
  string(25) "blocs_contenu_equipements"
  [11]=>
  string(23) "blocs_contenu_activites"
  [12]=>
  string(20) "blocs_contenu_tarifs"
  [13]=>
  string(14) "galerie_photos"
  [14]=>
  string(30) "aprim_camping_secureholiday_id"
  [15]=>
  string(17) "aprim_ordre_carte"
  [16]=>
  string(30) "hebergement_titre_introduction"
  [17]=>
  string(30) "hebergement_texte_introduction"
  [18]=>
  string(21) "hebergement_vignettes"
  [19]=>
  string(19) "aprim_camping_email"
  [20]=>
  string(21) "aprim_camping_form_id"
  [21]=>
  string(14) "camping_labels"
  [22]=>
  string(19) "aprim_camping_video"
  [23]=>
  string(18) "aprim_camping_plan"
  [24]=>
  string(22) "aprim_camping_brochure"
  [25]=>
  string(27) "aprim_camping_plan_vignette"
  [26]=>
  string(22) "aprim_camping_baliseh1"
  [27]=>
  string(16) "utiliser_les_ids"
  [28]=>
  string(24) "script_secure_holiday_id"
  [29]=>
  string(7) "widgets"
  [30]=>
  string(21) "script_secure_holiday"
  [31]=>
  string(7) "galerie"
  [32]=>
  string(10) "galerie_en"
  [33]=>
  string(10) "galerie_de"
  [34]=>
  string(10) "galerie_nl"
  [35]=>
  string(9) "region_h1"
  [36]=>
  string(21) "aprim_camping_horaire"
  [37]=>
  string(9) "video_img"
  [38]=>
  string(10) "google_map"
  [39]=>
  string(20) "aprim_camping_tarifs"
  [40]=>
  string(11) "pointer_pos"
  [41]=>
  string(6) "equipe"
  [42]=>
  string(8) "cat_actu"
  [43]=>
  string(5) "title"
  [44]=>
  string(8) "subtitle"
  [45]=>
  string(11) "the_content"
  [46]=>
  string(6) "langue"
  [47]=>
  string(5) "modes"
  [48]=>
  string(5) "label"
  [49]=>
  string(12) "bon_a_savoir"
  [50]=>
  string(14) "moyen_paiement"
  [51]=>
  string(12) "presentation"
  [52]=>
  string(14) "title_location"
  [53]=>
  string(20) "the_content_location"
  [54]=>
  string(17) "liste_hebergement"
  [55]=>
  string(18) "title_emplacements"
  [56]=>
  string(20) "emplacements_wysiwyg"
  [57]=>
  string(18) "liste_emplacements"
  [58]=>
  string(26) "liste_emplacements_confort"
  [59]=>
  string(15) "liste_insolites"
  [60]=>
  string(15) "title_activites"
  [61]=>
  string(21) "the_content_activites"
  [62]=>
  string(9) "activites"
  [63]=>
  string(12) "title_region"
  [64]=>
  string(18) "the_content_region"
  [65]=>
  string(7) "regions"
  [66]=>
  string(14) "title_services"
  [67]=>
  string(29) "services_equipements_pictos_1"
  [68]=>
  string(34) "services_equipements_pictos_list_1"
  [69]=>
  string(28) "services_equipements_content"
  [70]=>
  string(25) "services_equipements_col1"
  [71]=>
  string(25) "services_equipements_col2"
  [72]=>
  string(29) "services_equipements_pictos_2"
  [73]=>
  string(34) "services_equipements_pictos_list_2"
  [74]=>
  string(25) "services_equipements_list"
  [75]=>
  string(8) "facebook"
  [76]=>
  string(9) "instagram"
  [77]=>
  string(7) "twitter"
  [78]=>
  string(7) "use_cf7"
  [79]=>
  string(24) "shortcode_contact_form_7"
  [80]=>
  string(15) "grp_reservation"
  [81]=>
  string(18) "display_coup_coeur"
  [82]=>
  string(20) "on_bottom_coup_coeur"
  [83]=>
  string(14) "txt_coup_coeur"
}